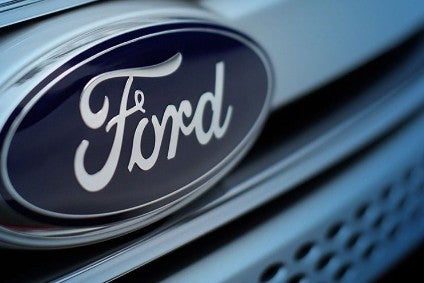 As widely anticipated Ford has posted a lower quarterly profit in the third quarter as high commodity costs and poor performance in China dented the bottom line.
However, Ford maintained its full-year earnings forecast and its share price on the NYSE recovered a daily 4.88% decline in after hours trading as investors weighed a set of results that were nevertheless slightly better than forecast, with Ford's domestic market performance a notable positive.
Ford said third quarter revenue was up 3% year over year (at US$37.6bn), with net income and company adjusted EBIT both down year over year, 'primarily driven by continued challenges in China'.
Ford reported a Q3 net profit of US$993m, or 25 cents per share, a 36% drop from the year earlier quarter.
A bright spot was North America, where the company delivered a Q3 8.8% EBIT margin and a hefty US$2bn EBIT, supported by more than US$1bn of improved mix, thanks to the continued shift towards utilities and trucks, as well as high end trim models. Ford said that market share was down slightly mainly due to lower car sales, offset partially by gains in SUVs, trucks and vans.
In Europe Ford posted a Q3 loss of US$245m and cited weakness in Turkey and Russia, along with launch costs related to new Focus.
Ford's Asia-Pac operations showed a Q3 loss of US$203m and Ford said the decline in Asia-Pacific region EBIT was due to lower volume and net pricing in China JVs and unfavourable market factors in China for Explorer and Lincoln imports (ie new import tariffs). Ford vehicle sales were down 43% in China in September. Today the company announced a new Ford China CEO and organisational changes in an effort to turn China's losses around.
"This quarter shows that our business remains very strong in key areas. We continue to make progress on our efforts to redesign Ford to be far more competitively fit, disciplined in capital allocations and nimble enough to win in a fast changing world," said Jim Hackett, Ford president and CEO. "With products like the Edge ST and Ranger launching in the United States and the Territory SUV in China, we are also building momentum shifting our product portfolio to build on our strengths and meet shifting consumer demand."
"This quarter we achieved a North America EBIT margin of nearly 9% and the best quarterly result in Ford Credit in more than seven years, while teams across the company continue to aggressively improve the operational fitness of the business," said Bob Shanks, executive vice president and CFO.
"Our balance sheet remains robust, with more than $23 billion of cash and more than $34 billion of liquidity."
Ford also said that as a result of the higher costs and uncertainty impacting the entire sector, coupled with unexpected deterioration this year in the Europe and China business, current company forecasts show that it will not reach its previously announced 8 percent EBIT margin or high teens ROIC targets by 2020. However, the company said it 'continues to attack costs, increase the operational fitness of the business and remains committed to hitting these targets over time'.
Investors have voiced some concerns over the lack of detail on Ford's extensive restructuring plans and the Ford share price is languishing under US$9. But Ford is taking its time to assess where it can cut cost and where investments need to be made for long-term gain. "Nothing has changed in terms of providing a lot of details," Shanks told reporters. He also welcomed the tentative agreement between the US, Canada and Mexico on an updated version of the NAFTA. However, he also said Ford would also like to see tariffs on steel and aluminium addressed as part of the revised treaty.
See also:
Ford results Q3 preview – investors may be down, but not out
Ford establishes stand-alone China business and names its new CEO
Ford launches new mid-size SUV in China