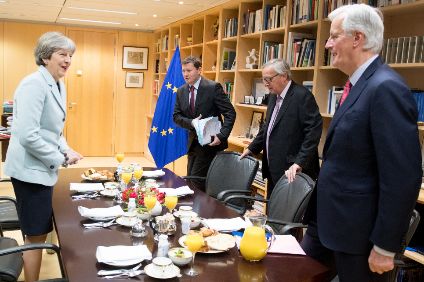 Ford reportedly has told British politicians it would take "whatever action is needed" to protect its business over Brexit.
According to the UK's Independent newspaper, which did not cite a source, the automaker blamed uncertainty over Brexit for a GBP760m drop in its European earnings in 2017, citing plummeting confidence in the UK since the Brexit referendum and raising fears of long-term damage from European Union withdrawal.
It's worth noting Ford had – long before Brexit – closed or sold its UK automaking plants and, more recently, transferred van production to Turkey. It currently operates two engine facilities, R&D and a retail dealer network.
It has also long struggled to make a profit in Europe, taking such drastic action as closing a large plant in Belgium.
The Independent said the pointed comment, amid the growing prospect of a no-deal Brexit and increasing doubt British prime minister Theresa May could win parliamentary backing for any deal, represented a major turnaround just months after Ford suggested it thought negotiations were "positive".
The paper said Ford attributed GBP470m of the GBP760m loss to the drop in the value of the pound since the Brexit referendum.
As a result, Ford said that it was prepared to "take whatever action is needed" to keep its European business profitable, something likely to be seen as a warning that it could scale back UK operations.
Yet only last April Jim Farley, Ford's executive vice president of global markets, insisted the car giant was "sticking with Britain" through Brexit, adding that the UK was a "fundamental part" of its operations.
Farley said then there were "positive" signs in Brexit negotiations and that he was hopeful that "frictionless trade" could be achieved, the Independent noted.
But since then the EU has refused most plans put forward by the UK, which has attempted to secure access to the single market without accepting all of its rules, while Brexiteers will not countenance compromise on Britain's part to gain greater access.
Ford last month reported second quarter profit down on last year as it felt the effects of disruption at a key supplier to its F-150 pickup range in North America. It also said that it faced 'ongoing challenges' in China's market and cut its 2018 profit forecast. Q2 net income fell by almost half to USD1.1bn (USD2bn in Q2 2017), below analyst expectations. In May, Ford supplier Meridian Magnesium Products was hit by a fire at a Michigan (Plymouth) facility that resulted in a shortage of die-cast components parts that halted production of the Ford F-150 pickup. Q2 EBIT in North America was down USD0.6bn at USD1.8bn, due largely to the Meridian fire.
Unfavourable currency movements and higher costs resulted in a Q2 loss for Europe and Ford said then it expected an EBIT loss for the region in 2018.
Separately, McLaren Automotive chief executive Mike Flewitt told the Mail on Sunday that, even after McLaren opens a new carbon-fibre manufacturing site near Sheffield, around 40% of its components would come from the EU and the loss of frictionless trade between Britain and the EU could lead to delays and extra costs. He was also concerned about the loss of skilled workers because 15% of his engineering staff are EU nationals.
The paper said Flewitt styles himself as an optimist on Brexit – he predicts sensible economic decisions and common sense "will prevail". But he is frustrated by a lack of progress in negotiations, and increasingly concerned by the looming possibility of a 'no-deal' Brexit.
"What will happen on the first day of no deal? How will we be able to import components? Export cars? Well…we don't actually know how to trade with each other under those terms," he told the Mail on Sunday.
Previously vice-president of manufacturing for Ford across Europe, he was dismissive of those who accused motor industry managers, including the heads of Jaguar Land Rover and BMW, of joining in 'Project Fear' for expressing their Brexit concerns.
"These are genuine fears," he told the paper. "The people I feel most sorry for are some of the car companies that came and invested in the UK through the 1980s and 90s to make Britain their base for trading in Europe.
"If all of a sudden their trading terms change, that whole investment is almost called into question."