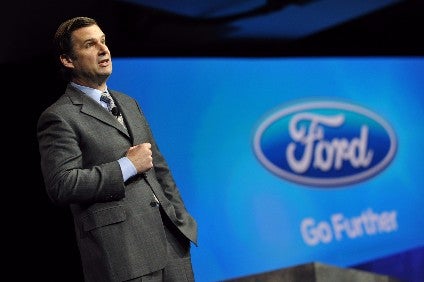 Ford has posted a surprise fourth quarter operating profit and pledged to up its investment in electric vehicles.
Ford said it had advanced its business turnaround with its Q4 results.
Ford posted a Q4 net loss of US$2.8bn (versus a loss of USD1.7bn in Q4 2019) but also an adjusted operating profit (EBIT) of USD1.7bn for earnings per share of 34 cents (against analyst estimates of a 5-8 cents loss).
Ford said it had improved results in all regional auto businesses and Ford Credit. North America EBIT was up 53% to USD1.1bn. In Europe, Ford posted USD414m in EBIT – its highest quarterly profit in the region in more than four years – and an EBIT margin of 5.8%. Through the first phase of restructuring, Ford said it has reduced its annual structural costs by USD1.1bn. All three business focus areas – commercial, passenger and import – were profitable in the fourth quarter. Ford said it bolstered the No. 1 position of its Transit commercial vans, with net pricing and share both up.
In China, Ford made an EBIT loss of USD66m, but that was 68% lower than the previous year, a third consecutive quarter of improvement and Ford said its retail sales were up 30% in Q4.
For the full pandemic hit year Ford recorded a net loss of USD1.3bn on revenues down 18% at USD127.1bn; adjusted EBIT was at USD2.8bn (down USD3.6bn on 2019).
"The transformation of Ford is happening and so is our leadership of the EV revolution and development of autonomous driving," said Ford President and CEO Jim Farley. "We're now allocating a combined $29 billion in capital and tremendous talent to these two areas, and bringing customers high-volume, connected electric SUVs, commercial vans and pickup trucks."
Customers in the US in the fourth quarter began taking delivery of the all-electric Mustang Mach-E; the Bronco Sport, ahead of the summer return of the legendary Bronco; and the 2021 F-150 pickup – all expected to be significant contributors to 2021 results.
In fourth quarter 2020, the company generated USD1.9bn in adjusted free cash flow and ended the year with sequentially higher cash (nearly USD31bn) and total liquidity (almost USD47bn).
Ford produced quarterly company adjusted EBIT (earnings before interest and taxes) of USD1.7bn billion, up from USD485m, and an adjusted EBIT margin of 4.8%. The automotive EBIT margin was 3.8%. Ford said gains were broad-based and largely resulted from improved pricing and lower structural costs, as well as the overlap with UAW contract-ratification costs in 2019.
According to John Lawler, Ford's chief financial officer, the third and fourth quarters of 2020 provided evidence of progress against the plan to turn around the company's automotive business and improve profitability.
Electrification investment doubled
Jim Farley said Ford will now invest at least USD22bn in electrification through 2025, nearly twice what the company had previously committed to EVs. He said the company is "all in and will not cede ground to anyone" in developing and delivering connected electric vehicles and services in mainstream areas of strength for Ford: pickups, commercial vans and SUVs.
"We are accelerating all our plans – breaking constraints, increasing battery capacity, improving costs and getting more electric vehicles into our product cycle plan," Farley said. "People are responding to what Ford is doing today, not someday."
The Mustang Mach-E, he said, is receiving great customer and critical reviews, and will be followed by the first E-Transit commercial van (late 2021) and an all-electric F-150 pickup (mid-2022). He added that EVs will be fundamental to the Lincoln luxury brand and the Transit commercial line-up, the latter across a variety of body styles and customized interiors.
Ford said its development and delivery of connected vehicles will be enhanced by a new, six-year partnership with Google announced earlier this week. The two companies are establishing a collaborative group – Team Upshift – to unlock personalized consumer experiences, and create and make the most of data-drive n opportunities.
Outlook and semiconductor issues
Ford's Lawler said the company was on course to earn USD8bn to USD9bn in adjusted EBIT – including a USD900m non-cash gain on its investment in Rivian – and generate USD3.5bn to USD4.5bn in adjusted free cash flow in 2021. That scenario anticipated continued EBIT improvement in each of Ford's regional businesses, except South America.
However, he said the global semiconductor shortage is creating uncertainty across multiple industries and will influence Ford's 2021 operating results.
"The semiconductor situation is changing constantly, so it's premature to try to size what availability will mean for our full-year performance," he said. "Right now, estimates from suppliers could suggest losing 10% to 20% of our planned first-quarter production."
According to Lawler, production losses in that range projected across the entire first half of the year – along with assumptions for some cost offsets and volume make-ups in the second half – could imply that the shortages will lower Ford's 2021 adjusted EBIT by USD1bn to USD2.5bn. He said the company expects full-year cash and EBIT effects to be about equal – with quarterly cash implications more volatile, given the mechanics of company working capital.