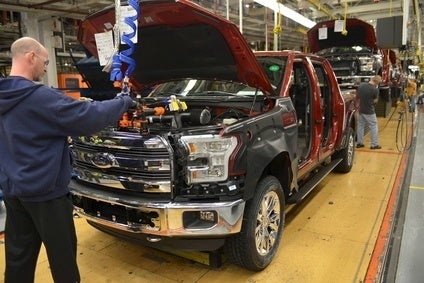 Ford has posted better than expected financial results for the first quarter and maintained its profit forecast for the year. Ford was boosted by increased net pricing that partly offset higher costs and the effects of the global chips shortage.
Ford said that strong customer demand for its fresh lineup of vehicles in the first quarter of 2022 was tempered by persistent supply chain issues that reduced the speed with which the company could fulfil demand. That was particularly the case with constrained sales on Ford's highly profitable F-150 and Expedition/Navigator lines.
Ford reported $34.5 billion in first quarter revenue (5% down on last year), with wholesale shipments of nearly 970,000 vehicles, down 9% from a year ago.
Ford said a net loss of $3.1 billion was primarily attributable to a mark-to-market loss of $5.4 billion on the company's investment in Rivian.
Adjusted earnings before interest and taxes were $2.3 billion (Q1 2021: $3.9bn), with an adjusted EBIT margin of 6.7% (Q1 2021: 10.8%). Profitability was enhanced by increased net pricing, including 'continued discipline in incentive spending', but Ford said that was more than offset by higher commodity prices, a decline in overall product shipments, and a lower mix of pickup trucks and large SUVs.
In North America, Ford generated $1.6 billion in EBIT during Q1. The company said first quarter supply disruptions limited the fundamental revenue and earnings power of the regional business.
Collectively, the company's Europe, South America, China and International Markets Group business units – all of which have been restructured and refocused over the past few years – produced EBIT of $300 million.
Ford CFO John Lawler said that a strong demand and pricing environment for existing and new vehicles support the company maintaining its full-year outlook for $11.5 billion to $12.5 billion in adjusted EBIT.
Ford cautioned that the company's outlook also assumes that disruptions in the supply chain and local vehicle manufacturing operations resulting from renewed COVID-related health concerns and lockdowns in China do not further deteriorate.
Separately, to date, Ford said the war in Ukraine has had limited direct effect on the company's supply chain. However, the situation in Eastern Europe could exacerbate broader supply issues over time, Ford said.