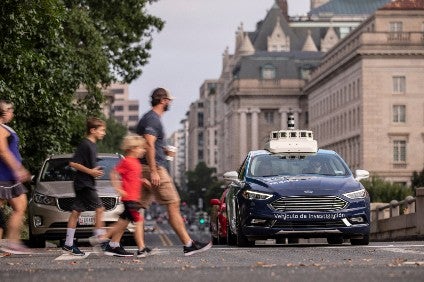 As expected, Ford has confirmed a set of downbeat quarterly financial results that indicate the depth of the reversal caused by the COVID-19 pandemic this year. The company also took the opportunity to save money and put the brakes on investment in autonomous vehicles (AVs).
Ford said its autonomous vehicle services rollout plans have now been put back to 2022 from 2021 as it meets the challenges of the current business environment as well as 'the need to evaluate the long-term impact of COVID-19 on customer behaviours'. In the drive to save money, the company will also no longer proceed with a programme to develop a Rivian architecture EV for Lincoln.
For the first quarter, Ford reported a net loss of $2bn; adjusted earnings before interest and taxes was negative $632m, including an estimated negative effect of at least $2bn from the coronavirus crisis.
The company also expects things to get worse: Ford expects second quarter adjusted EBIT to be a loss of more than $5 billion, as year-over-year industry volumes decline significantly in every region.
Ford's first quarter adjusted free cash flow was negative $2.2bn. Ford reported quarterly revenue of $34bn.
The company recorded a volume-driven Automotive EBIT loss of $177m, as $346m in positive EBIT from North America was more than offset by Auto losses in other regions. The quarterly loss in Mobility was expected, as Ford continues to invest in growth from related services, as well as in autonomous vehicles and the underlying business model.
Ford, like other vehicle manufacturers, is focused on shoring up its balance sheet in the face of the unprecedented COVID-19 crisis, which has decimated vehicle markets amid population lockdowns and shuttered dealerships in many countries.
Ford said it is lowering operating costs, reducing capital expenditures and deferring portions of executive salaries. It has recently borrowed more than $15bn from existing lines of credit, and this month issued $8 billion in unsecured bonds, and suspended its regular quarterly dividend and share repurchase program.
Ford said incremental cash enables the company to navigate temporary adverse effects on working capital caused by the coronavirus-related production and supply chain shutdowns.
At the end of the first quarter, Ford and Ford Credit had $35.1bn and $28.0bn in liquidity, respectively. Ford said that Ford Credit remains an important source of support for customers and dealers, with a strong, inherently liquid balance sheet.
As of April 24, Ford had a cash balance of $35bn, though some analysts caution on the rate of cash-burn for Ford and other OEMs as the COVID-19 crisis shows no sign of ending anytime soon.
"We've taken decisive actions to lower our costs and capital expenditures and been opportunistic in strengthening our balance sheet and optimizing our financial flexibility," said Tim Stone, Ford's CFO. "We believe the company's cash is sufficient to take us through the end of the year, even with no additional vehicle wholesales or financing actions."
While Ford shut down its plants around the globe in March, cash use has remained high because production supplier payables are about 45 days. However, Ford said the company's cash outflow will be substantially lower after early May as Ford pays down those payables.
According to Stone, today's economic environment remains too ambiguous to provide full-year 2020 financial guidance. He said the company expects second quarter adjusted EBIT to be a loss of more than $5bn, as year-over-year industry volumes decline significantly in every region.
See also: Ford's journey to the post-Covid business landscape starts with survival