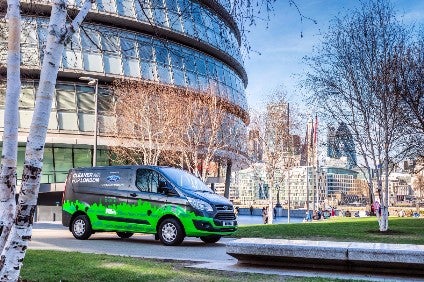 The first fleets participating in the Ford Transit plug-in hybrid van (PHEV) London trial, starting this autumn, have been confirmed.
The multi million pound project is designed to explore how lower emission, plug in hybrid electric vans could support cleaner air targets while boosting productivity for operators in urban conditions – the toughest working environment for commercial vehicles.
The project, supported by Transport for London, features a 12 month trial of 20 new PHEV vans that reduce local emissions by running solely on electric power for the majority of inner-city trips. Equipped with range extenders, the fleet is not limited by battery range, making them capable of the longer journeys that may be required by businesses and 'blue light' emergency services.
The participating fleets represent a cross-section of city based businesses which will integrate the vans into their day-to-day operations. Using a Ford telematics system, each PHEV will collect data on the vehicles' financial, operational and environmental performance to help understand how the benefits of electrified vehicles could be maximised.
The five fleets include the Metropolitan Police with two transit custom PHEV vans: one marked for second response to traffic accidents and one unmarked as a forensic support unit. In addition, Transport for London will use three of the vans for freight duties.
The confirmed fleets are Transport for London, Metropolitan Police, Clancy Plant, Addison Lee and British Gas.
Mark Harvey has been appointed director of Ford's urban electrified van programme – a new position in the UK. He will work directly with Transport for London, participating fleets, and the Ford development team, to bring manufacturer, consumer and city together to better understand CV use in a megacity.
The Transit PHEV van is planned for commercial introduction in 2019, part of the automaker's US$4.5bn investment in electrified vehicles by 2020 as it expands to be an auto and a mobility company, including leading in electrified and autonomous vehicles and providing new mobility ideas.