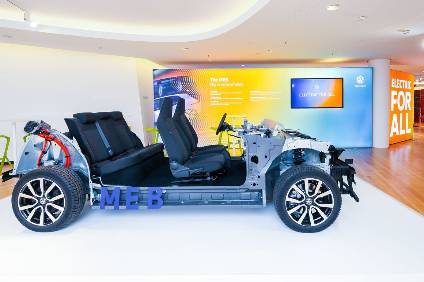 Ford has reportedly chosen its vehicle manufacturing facility in Cologne, Germany, to build a Ford-badged electric car based on Volkswagen Group's MEB electric engineering architecture.
Production of the vehicle is scheduled to start from 2023 and the electric platform share is part of a strategic alliance between Ford and VW Group.
Media reports in Germany say that Ford will invest some EUR1bn a the Cologne factory for electric vehicle series production. The report also said that Ford chose Cologne over its factory in Craiova, Romania – previously considered a front runner due to capacity availability and low labour costs.
Over several years starting in 2023, Ford could deliver some 600,000 electric vehicles for the European market atop the MEB architecture which is designed to combine space and performance with electric drive. Ford has said its vehicle will be "highly differentiated", expanding Ford's zero-emission capabilities in the region.
The vehicle, designed and engineered by Ford in Cologne-Merkenich, would add "another compelling nameplate to its own, all electric, Mustang Mach-E, which will be introduced in 2021". The Mustang Mach-E is built on a proprietary Ford NA engineered platform and manufactured in Mexico.
Ford Europe chief Stuart Rowley told just-auto earlier this year that the European vehicle will have strong Ford characteristics: "Although we will use the VW MEB platform, those vehicles will be built in a Ford plant with Ford engineering input and will absolutely be Fords. They will look like a Ford, feel like a Ford and drive like a Ford," he said.
The Ford Cologne plant currently builds the Fiesta.