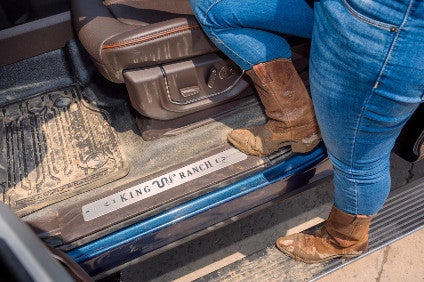 Time was, a vehicle floor covered in carpet was a step up from the base model's rubber or vinyl. But in a reversal, some Ford luxury truck drivers have asked for, and got, a vinyl option in lieu of plush pile. "For customers who feel equally at home in cowboy boots or a sport coat," the automaker said.
Ford has extended the option across all F-Series Super Duty pickups to now include the top King Ranch and Platinum edition trim levels. It was already available for other trim levels.
"We extended the vinyl floor offering due to customer demand. We know what our truck customers want and there was enough demand for a high trim Super Duty with vinyl floors. These customers want a truck that can double as a luxury vehicle and a work truck, so we're giving them that option," Ford spokesperson Sam Schembari told just-auto by email.
"The material used in the floor is thermoplastic olefin."
Ford declined to reveal the value of the supply deal, the norm for current supplier-automaker contracts.
The automaker said the vinyl flooring in the King Ranch and Platinum models is "more durable and thicker than base vinyl, adding to the premium feel of the top trims". Both vinyl trims make it easier to wash out the interior.
King Ranch and Platinum get model-specific flooring with unique designs and clips to hold carpeted or all-weather floor mats. Base vinyl flooring is standard on XL models, and optional on XLT and Lariat.
The 2017 models go on sale next autumn.