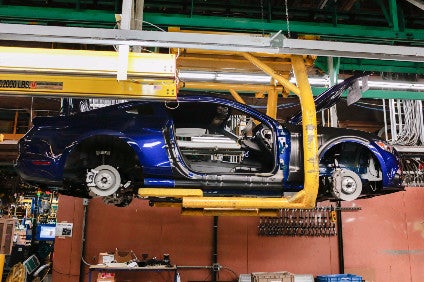 A 32% fall in September sales of Ford's iconic 'pony car' Mustang has prompted the automaker to stop production for a week.
The model was outsold by its arch-rival, General Motors' Chevrolet Camaro, for the first time in nearly two years, according to a Bloomberg report.
A Ford spokeswoman told the news service the Flat Rock, Michigan plant had been closed temporaily to match production with demand. The plant employs 3,702 people making the Mustang and Lincoln Continental and will resume production on 17 October. Workers will be paid during the closure, in line with current labour agreements with unions.
US light vehicle sales continued to be soft in September, down 0.7% year on year to 1.434m. However, the data showed a surprisingly robust seasonally adjusted annualised rate (SAAR) of 17.76m units, a solid rebound from August's 17.0m.
Mustang sales were off 32% last month to 6,429 units (down 9.3% to 87,258 year to date) while Chevrolet Camaro volume rose 25.4% to 6,577 (-11.4%; 54,535YTD), according to just-auto data.
Bloomberg, citing JD Power, said incentives which more than tripled last month to $3,409 per car, compared with an average discount of $2,602 for the Ford, helped the Camaro overtake the Mustang last month for the first time since October 2014.
The current Mustang is the first offered with factory right hand drive which has taken it into new markets such as the UK and Australia. Initial demand after launch in Australia last year saw the local Ford unit pleading with the factory for an extra 1,000 units that year.
Maybe that pent-up demand has now been met?