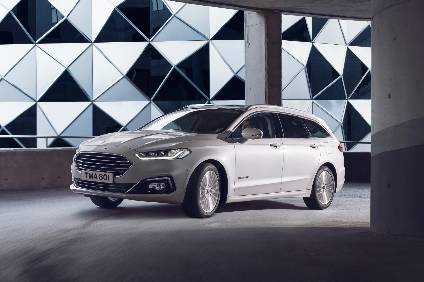 At the Brussels Motor Show, Ford of Europe has revealed an enhanced Ford Mondeo range – including a new Mondeo Hybrid wagon (estate).
Ford says the new variant is a unique offering in its segment.
"The Ford Mondeo Hybrid offers a unique driving experience with its refined automatic transmission and ability to pull away silently. Combined with the benefits of a low CO2 petrol engine we expect the Hybrid to account for up to 50 per cent of sales," said Roelant de Waard, Ford European Marketing, Sales and Service vice-president.
"At the same time we are introducing an all-new diesel powertrain with SCR (selective catalytic reduction) technology to meet and exceed the latest Euro 6d Temp emissions standards, with an all-new eight-speed automatic transmission available."
In both wagon and four-door body styles, the Mondeo Hybrid is capable of pure electric driving and offers silent key start capability for refinement particularly in city and stop-start driving scenarios, Ford says.
Ford says the latest generation of Mondeo Hybrid powertrain control software delivers a smooth, linear response to acceleration demand for a more refined driving experience. It also claims the enhanced powertrain software is also more effective at using the engine's torque to deliver greater fuel efficiency and performance – seamlessly adjusting transmission ratios to utilise the highest engine torque at lowest engine speed.
The hybrid powertrain delivers 187PS, and combines a specially-developed 2.0-litre Atkinson cycle petrol engine; electric motor; generator; 1.4kWh lithium-ion battery; and a Ford-developed power-split automatic transmission that emulates the performance of a continuously-variable transmission.
Regenerative braking technology captures up to 90 per cent of the energy normally lost during braking to replenish the battery, contributing to anticipated CO2 emissions from a targeted 98g/km for the existing hybrid four-door, and anticipated CO2 emissions of 103g/km for the newly launched wagon variant.