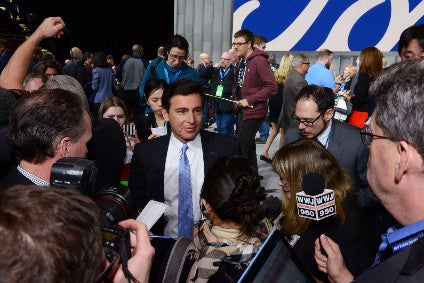 Ford Motor Company, subject to US president-elect Donald Trump's heavy criticism of its Mexico investment during his campaign, has said it is looking forward to working him.
In remarks reported by Reuters, the company congratulated him on his election victory and vowed to work with the president-elect.
"We agree with Mr Trump that it is really important to unite the country, and we look forward to working together to support economic growth and jobs," Ford spokeswoman Christin Baker told Reuters.
During his campaign, Donald Trump pilloried Ford for investing in production capacity in Mexico and threatened to impose 35% tariffs on Mexican goods – including cars – imported to the US. That met a tough response from Ford, its CEO Mark Fields robustly defending Ford's manufacturing strategy and pointing out that the company is investing heavily in its US plants as part of its North American plan.
Earlier this year, Ford confirmed that all of the company's North American small-car production will leave US plants and head to lower-cost Mexico. Ford said it would boost its competitiveness by spending US$1.6bn on a new small car plant in in San Luis Potosi state, Mexico. That decision was branded 'horrible' by Trump.
Ford's Fields has responded to Trump's criticism by saying that as a global company Ford must compete by making solid business decisions.
In October 2015, responding to Trump criticism of Ford's Mexico investments, CEO Mark Fields said: "The reality and the facts are that we've invested more than $10 billion in the US in our plants since 2011 and we've also added 25,000 US employees. When you look at the way we spent our investments 80% of our North American investments are here in the US and 97% of our engineering is done here in the US."
See also: Trump rebukes Ford's small car Mexico plan
What could a Trump victory mean for the automotive industry?