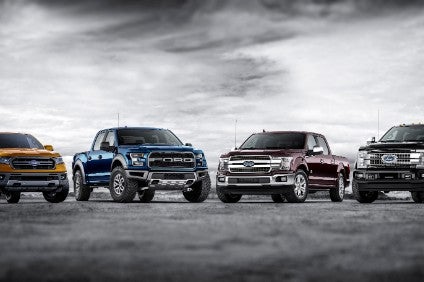 Ford has announced a major strategy plan out to 2020 for the US market, claiming it will have the freshest lineup among all full line automakers with average showroom age dropping from 5.7 to 3.3 years as it replaces three quarters of its range. It is also promising full connectivity ahead of over the air updates and the 'Transportation Mobility Cloud'.
Range freshening will add four new trucks and SUVs and Ford said it was "going all in on hybrids", offering buyers "more performance and capability yet serving as a hedge against higher gas prices". All new Ford brand vehicles also will have 4G LTE connectivity by the end of 2019 and the automaker is also introducing so called Co-Pilot360, a driver assist technology package with standard automatic emergency braking which helps protect the vehicle from the front, rear and sides.
"This showroom transformation will thrill customers, drive profitable growth and further build toward our future of smart vehicles in a smart world" – president and CEO Jim Hackett
"Our passion for great vehicles is stronger than ever," said Jim Hackett, Ford president and CEO. "This showroom transformation will thrill customers, drive profitable growth and further build toward our future of smart vehicles in a smart world."
The models
The programme will see Ford boost its offerings in trucks, SUVs (including off road and performance versions), hybrids, battery electric vehicles (BEVs) and commercial vehicles.
Trucks: Since the 2014 debut of the redesigned F 150 with aluminium body, Ford has claimed a 1.3% market share gain in the full size pickup segment against arch rivals like the Chevrolet Silverado (and its GMC clone) and FCA's Ram 1500 line. Ford claims its average F series transaction prices lead the segment – up US$6,700 per vehicle since 2014 – because of high end trim/equipment variaints like the Lariat, King Ranch and Platinum. It adds that its F Series revenues alone are higher than Fortune 500 companies such as Facebook, Coca Cola and Nike.
So it will, naturally, continue growing this segment by adding new models and powertrains "with an eye towards continued growth in high end trims".
Specific truck model moves include:
2018: New three litre [in house made] Power Stroke diesel engine for the F 150 and an updated Raptor
2019: The Ranger (which in a previous guise was shared with Mazda's US unit but this is not in the new plan) returns to the midsize truck segment; redesigned F Series Super Duty arrives
2020: Redesigned F 150 to offer new hybrid powertrain with mobile generator
SUVs: By 2020, Ford estimates SUV sales could account for half of US industry retail sales – and said that is one reason it is reallocating $7bn in capital from cars to SUVs. By 2020, it plans a claimed industry leading lineup of eight models – five of which will offer hybrid powertrains and one battery electric. Estimates are it will boost its sales by 20% – over double the industry rate – to over 950,000 by 2020, according to LMC Automotive, and pass 1m by 2021.
Following the recent launches of redesigned entry level EcoSport and top end, full size Expedition SUVs, Ford will focus next on the highest volume segments with redesigned Escape and Explorer lines due out next year combined, these two account for 70% of its SUV volume.
It will also launch new off road models: the revived Bronco (a previously popular model of OJ Simpson freeway 'chase' fame) and a yet to be named off road small utility both, Ford said, "designed to win a growing number of people who love getting away and spending time outdoors with their families and friends".
"Ford helped start the off road phenomenon and has majored in off road capability for decades – from the Bronco to the Raptor," said the automaker's global markets head Jim Farley. "Now, we're ready to reclaim our rightful place as the off road vehicle leader."
The automaker also plans to boost its range of performance SUVs with a redesigned Edge ST later this year followed by an Explorer ST "soon". These two will help the Ford Performance unit deliver on a promise of 12 new models by 2020 and will help extend the division's growth, up 81% in the last four years. Its sales are on track to grow another 71% by 2020, driven by SUVs, Ford claims.
Next generation hybrids: Part of the new product strategy includes "going all in on hybrids to bring more capability to customers of the most popular and high volume vehicles like F 150, Mustang, Explorer, Escape and Bronco – and serve as a hedge against higher gas prices", Ford said.
Its new hybrids will be more spacious than current models and, with the F 150 Hybrid, the focus will be on capability, such as low end torque for extra pulling power and ability to serve as a mobile generator. The Mustang Hybrid will be "all about delivering V8 like performance with more low end torque".
"Hybrids for years have been mostly niche products but are now on the cusp of a mainstream breakout," Farley said. "The valuable capability they offer – plus fuel efficiency – is why we're going to offer hybrid variants of our most popular and high volume vehicles, allowing our loyal, passionate customers to become advocates for the technology." A sentiment with which Toyota US customers, offered hybrids since 2000, are sure to agree.
Ford said its new hybrid system is designed to be more efficient and less expensive than previous generations. The lower cost has been achieved through supply base relationships, using common cell and component design and by manufacturing motors, transmissions and battery packs with the intention of lowering cost of ownership.
Battery electric vehicles: According to Ford, BEVs are more than a different powertrain: "they represent a lifestyle change for consumers, especially for those who have never driven an electric vehicle".
So the automaker's strategy includes rethinking the ownership experience so it is more seamless than with today's gas powered vehicles. That means making charging effortless at home and on the road as well as offering full vehicle over the air software updates to enhance capability and features.
"Throwing a charger in the trunk of a vehicle and sending customers on their way isn't enough to help promote the viability of electric vehicles," said Sherif Marakby, Ford's head of autonomous and electric vehicles. "In addition to expanding our electric vehicle lineup, we are redesigning the ownership experience to ensure it addresses customer pain points that currently hold back broad adoption today."
The BEV manufacturing plan will be more efficient. The company will halve floor space for final assembly operations and reduce capital investment 50%. A projected 30% improvement in labour efficiency will allow it to redeploy employees to do other jobs, including assembly of battery packs (which are normally expensive and complex to ship).
A new performance battery electric utility arrives in 2020. It will be the first of six electric vehicles due by 2022 as part of an $11bn global electric vehicle investment.
Commercial vehicles: Ford, which claims to be the only full line brand in the US covering Class 1 to Class 7 vehicles, currently has a 38% share of the commercial vehicle market. Last year, it claimed to have sold more CVs than the second, third and fourth place competitors combined.
Now it plans to:
Launch, in 2019, a new Transit with 4G LTE connectivity
Extend production of the E Series cutaway and stripped chassis (a cab/cowl variant for airport shuttle bus/Federal Express delivery vehicle style custom builds) into the 2020s
Offer Automatic Emergency Braking, Lane Departure Warning, Driver Alert System and other technology on future E Series, F 650, F 750 and F59 chassis products
Ford earlier this year introduced new versions of its Transit Connect Cargo Van and Wagon with both due at dealerships later this year.
Designing a better PD system
While delivering this new vehicle range , Ford said it was continuously improving its operational fitness by increasing product speed to market, improving quality and further reducing complexity, and reducing cost. Driving improvements are the company's new structure and new tools and technologies that drive more human centred designs.
Its new organisation is structured to ensure managers view market and regional demands holistically to decide which vehicles and features customers value most.
"This drives more strategic and efficient investments, instead of trying to satisfy individual market requests. The efficiencies benefit the company and individual regions like North America," Ford said.
It also is moving to flexible vehicle architectures and more common parts across models, cutting new product development time – from sketch to dealer showroom – by 20%. This is helping achieve a commitment to deliver $4bn of engineering efficiencies. The company intends to have the most efficient product development organisation among full line automakers within five years.
Five flexible vehicle architectures – body on frame, front wheel drive unibody, rear wheel drive unibody, commercial van unibody and BEV – are paired with module 'families' that address the power pack, electrical pack and vehicle configurations. Seventy percent of each vehicle's engineering will be driven from this new architecture approach, with 30% of content – including grilles, bonnets, doors and more – customised for each vehicle.
For instance, as more vehicles become connected, new analytics tools will show which vehicle technologies customers use most often. This new data driven insight will help determine which features to grow and invest in and which to eliminate, reducing manufacturing complexity, improving pricing, reducing incentives and building revenue over time.
Ordering simplification
Simplification is another key aspect of the plan. Ford already has reduced 'orderable combinations' of its SUVs by 80% since 2014 including a 97% reduction on the new Edge coming later this year. This brings it into line with Asian competitors which typically offer a small number of 'base' vehicles, with clearly defined trim/specification levels, and a limited number of bundled option packs for each model.
New manufacturing tools and technologies: Increased use of augmented and virtual reality are helping reduce plant changeover time by an estimated 25%, which adds an average $50m to the company's bottom line per changeover.
Simulating various production processes and assembly line configurations in the virtual world helps identify potentially hazardous maneouvres and fine tune workflows before construction even begins, saving an estimated 20% of tooling cost on each vehicle programme.
The company also is increasing its use of collaborative robots that can perform jobs quickly and repetitively, helping reduce the risk of injury to employees, freeing them up for more high value jobs and improving the company's bottom line.
"We're looking at every part of our business, making it more fit and ensuring that every action we take is driven by what will serve our customers in a way that supports our fitness and performance goals" – global operations chief Joe Hinrichs.
"We're looking at every part of our business, making it more fit and ensuring that every action we take is driven by what will serve our customers in a way that supports our fitness and performance goals," said global operations chief Joe Hinrichs.