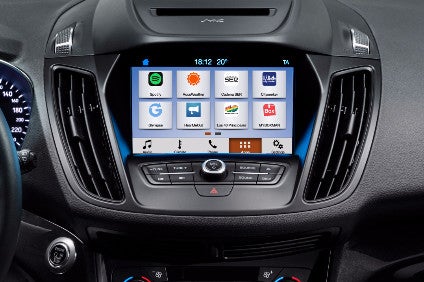 Ford has launched its latest SYNC 3 communications and entertainment system in Europe, allowing drivers to control their connected smartphones, audio, navigation, and climate functions with more conversational voice commands.
SYNC 3 features a redesigned eight-inch touch screen and faster performance. Simply by pushing a button and saying "I need a coffee," "I need petrol," and "I need to park," drivers can find nearby cafés, petrol stations or car parks, as well as locate train stations, airports, and hotels, Ford claimed. The system then guides the driver to the selected destination via the navigation.
The system was demonstrated for the first time at Mobile World Congress in Barcelona on the revamped Kuga [Escape in North America] which Ford also launched at the event. The company also announced new apps for the system that can be voice-activated using SYNC AppLink, enabling drivers to earn money by transporting packages, to record and share audio clips, and to check the weather. SYNC 3 will be launched in Europe in the summer, starting with Mondeo [Fusion], S-Max, and Galaxy.
Christof Kellerwessel, chief engineer, electronic and electrical systems engineering at Ford of Europe, said: "Designed to complement modern smartphones, with an intuitive touch screen, SYNC 3 understands more conversational speech, is faster, and offers an easier-to-read graphical interface."
SYNC launched first in the US several years ago and was widely criticised for a clunky interface many owners found difficult to use. It was swiftly revamped and is now in its third version. Ford has fitted it to 15m vehicles worldwide so far. The automaker said it had "drawn on 22,000 comments, and insights gained from research clinics and surveys to ensure the new version is the most customer-centric designed system to date".
Simplifying by putting options customers use most at their fingertips – navigation, audio and phone – the system has been further improved through increased processing power and a reduction in the number of steps required for a command.
Ford has added compatibility with five additional languages and more localised versions of the subscription-free emergency assistance. In the event of an accident where the airbag has deployed or fuel shut off has occurred, this uses a Bluetooth paired and connected mobile phone to help vehicle occupants initiate a direct call to emergency services in the correct language for the region. Emergency assistance alerts first responders with the vehicle location to help emergency call-takers send appropriate resources to the scene.
SYNC 3-equipped vehicles will offer users more choice in how they access their smartphones in the car. iPhone users can activate Apple CarPlay allowing them to make phone calls, access music, send and receive messages and get directions optimised for traffic conditions. The system is also compatible with Siri Eyes Free which allows for easy access to Siri with iPhones connected over Bluetooth.
Android users can activate Android Auto which makes apps and services accessible in safer and seamless ways including Google Search, Google Maps and Google Play.
Over-the-air software updates are automatically available via wi-fi once a vehicle is set up with credentials for a home network accessible in a customer's driveway or garage.
SYNC 3 also uses the Ford service app by providing online traffic information on the navigation map for better journey planning, adapting to changing traffic situations.
"With pinch-to-zoom and swipe gestures, plus the familiar one-box-search we know from internet search engines, SYNC 3 provides customers with an experience on the vehicle screen very similar to smartphone screens, and is easier and more intuitive," Kellerwessel said.
First introduced in Europe in 2013, SYNC AppLink technology already enables drivers to voice-activate a wide range of smartphone apps, including ADAC, Audioteka, AUPEO!, Cityseeker by Wcities, Cyclops, DetektorFM, DIE WELT, Eventseeker by Wcities, Glympse, Goal Live Scores, Meople, n-tv, Radioplayer, Roald Dahl Audiobooks, Spotify and Wetter.de.
Five new apps will arrived with SYNC 3, including the first in-car apps of their kind, MyBoxMan and HearMeOut.
Designed by FretBay, MyBoxMan enables drivers delivering a package for others to earn around EUR5-8 for a typical five kilometre journey. HearMeOut, the world's first hands-free voice-based social networking app, enables drivers to record 42-second audio posts, share them on Facebook and Twitter, and listen to and like audio posts from people they follow.
"Drivers have never had access to apps like this behind the wheel. MyBoxMan and HearMeOut open up entirely new ways for drivers to stay connected and even earn money," said Scott Lyons, business and partner development, connected vehicle and services, at Ford Europe. "Like a ride request service for deliveries, MyBoxMan is breaking new ground in social shipping, making intelligent and efficient use of car and van capacity on trips that are happening anyway."
Further new apps available for SYNC 3 include AccuWeather, Cadena Ser enables drivers in Spain to listen to the country's most popular national radio station.
New languages for SYNC 3 include Czech, Danish, Norwegian, Polish (including voice control) and Swedish (including voice control). Dutch, French, German, Italian, Portuguese, Russian, Spanish, Turkish and UK English are already available.