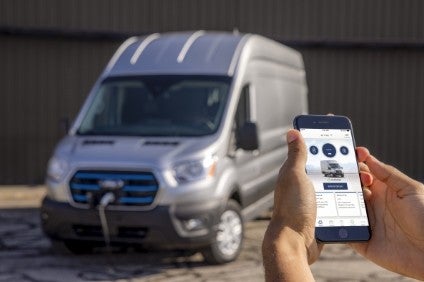 Ford Otosan – a Turkey JV owned by Ford and Koc – is building a battery assembly plant at its Kocaeli facility, the largest commercial vehicle production hub for Ford in Europe.
The company will manufacture E-Transit, the electric version of the van and is making the new investment to play a key role in electrification with the battery assembly plant planned to be operational by 2022. Ford's Turkish JV supplies the European market with Transit family light commercial vehicles.
Haydar Yenigün, General Manager, Ford Otosan, said, "We are now taking electric vehicle production and investments in our Kocaeli Plants one step further with a 'Battery Assembly Plant'. As the pioneer of the Turkish automotive industry, Ford Otosan will become Turkey's first and only integrated electric vehicle manufacturer."
Haydar Yenigün, General Manager, Ford Otosan, noted that Ford Otosan is now moving forward to a new phase in line with Ford's electrification strategy.
"At Ford Otosan, we have taken important responsibilities in commercial vehicle production in Turkey and advanced to a very important position within the Ford universe with our engineering know-how. We started investing in electric vehicles to lead the change in the automotive industry and began to produce the Transit Custom PHEV, Turkey's first plug-in hybrid commercial vehicle.
"We have recently been assigned responsibility to manufacture E-Transit, Ford's first all-electric commercial van, marking an outstanding achievement. We have now begun to work on building our Battery Assembly Plant, designed entirely by Ford Otosan engineers. This is an important step toward making our Kocaeli facility the first and only integrated electric automotive manufacturing plant in Turkey.
"With this important investment, we will go beyond assembly and develop hardware and software tests leveraging our own engineering capabilities. Therefore, this investment will be a gain for both Ford Otosan and also Turkey. I am confident that the production of electric vehicles, including their batteries, will contribute very positively to the national economy across a wide ecosystem as well as to the competitive strength of our industry and local suppliers globally."
Ford says its E-Transit, the first all-electric commercial van that will be manufactured in Turkey, will deliver up to 350 km range with a 67 kWh, 400 volt lithium -ion battery pack. The new battery assembly plant, where an integrated operation is targeted, will be equipped with the latest technology production solutions while AGV (automated guided vehicle) systems will ensure efficiency, it said.
With a total of 30 robots, including eight on the assembly line and 22 on the casing production line, Ford Otosan will have a highly automated and flexible production plant. The plant will also make use of collaborative robots to perform visual checks with cameras.
The batteries will undergo rigorous safety testing, including water and airtightness tests in the test laboratories being built by Ford Otosan. During the tests, the battery pack will be checked for charging level, pack and cell heat and software. It is claimed that the new 'cold metal transfer welding technology' will ensure 100% water and airtightness in the battery cases. The process assistance system that will be supported with 'Light Guide System' projection and 3D sensors will enable the battery pack to be monitored across all assembly steps. In addition to the assistance system, image processing cameras deployed on the collaborative robots will prevent potential production failures.