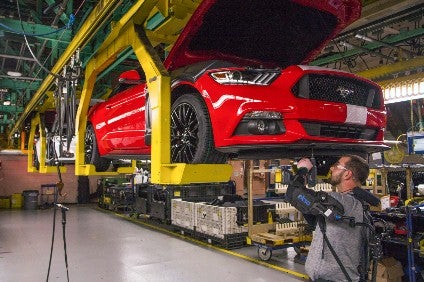 Ford has officially notified the state of Michigan it planned to do a "mass layoff" of 1,000 hourly factory workers by 1 April, though the carmaker emphasised most workers are moving to other factories rather than losing jobs, a local paper reported.
Some 440 workers classified as temporary who are affected by the shift reduction are not protected by the UAW contract and are not guaranteed jobs at other locations, the Detroit Free Press said.
"We first notified employees of this on 28 November, 2018," Ford spokeswoman Kelli Felker told the 'Freep'. "We notified them that we would be moving Flat Rock Assembly Plant to a one-shift operating pattern in the spring."
She added: "All full-time hourly employees affected by the move will be offered a position in another Ford plant with the vast majority moving to the Livonia Transmission Plant."
The distance between the two Michigan plants is approximately 30 miles, the report noted.
The Detroit Free Press said the letter of notice, dated 25 January, fulfills a federal labour law requirement that companies with more than 100 employees provide 60 calendar days' notification of a plant closing or mass layoff. The figure of 1,012 employees provided by Ford included 12 salaried positions.
Ford's letter said 1,012 workers would be laid off by 1 April. It said the number may be less due to "voluntary quits, retirements, transfers".
Since November 2018, the projected number of impacted workers had dropped from 1,150 to 1,012.
"This is something we told employees last fall, long before we had to, because we wanted to help them be able to move to different locations," spokeswoman Felker said, noting that a handful of workers not going to Livonia would be offered jobs in other parts of southeast Michigan and at US plants outside the state.
The shift reduction in Flat Rock is expected to affect 560 hourly non-skilled employees, 440 hourly non-skilled temporary workers and 12 salaried employees, according to the state notice.
Ford had said previously it had 500 new jobs in Livonia, which would accommodate most of the 560 full-time hourly non-skilled employees. The balance of those workers would be offered jobs in southeast Michigan, Felker said.
"Ford has a long history of new business at old addresses," Jon Gabrielsen, a market economist who consults with the auto industry, told the Detroit Free Press. "This appears very much in keeping with Ford's culture of doing their very best to take care of their well-trained and existing employees. It's a mutual benefit for everybody."