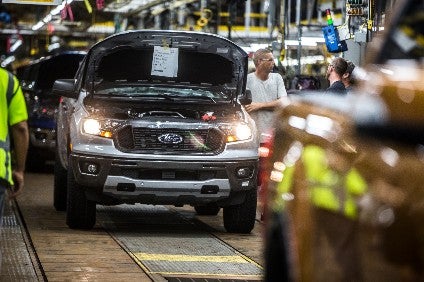 Ford is reported to be in 'serious negotiations' with Volkswagen Group to broaden their alliance beyond commercial vehicles as part of a drive to remove cost and reverse losses in Europe and South America.
Bloomberg reported remarks from Ford CFO Bob Shanks.
"We're having a very broad set of discussions about how we can help each other around the world," Bob Shanks, Ford's chief financial officer, said in an interview Thursday, Bloomberg said. "Collaboration isn't being limited in any way whatsoever, whether it's different types of technology, product segments or geography."
The talks with VW come as Ford comes under more scrutiny from investors as its bottom line is squeezed by slower sales in China, losses in regions such as South America, Asia-Pac and Europe. Investors want to see more detail on Ford's strategic direction, especially given the $11bn restructuring figure that CEO Jim Hackett has set. This week Ford reported quarterly profits 36% down on last year's pace as it felt the impact of a slump in China sales and higher commodity costs. Collaborating with other OEMs is one way to reduce cost. Ford has also announced that it will work closely with Mahindra in India.
"With VW and Mahindra, we haven't put boundary conditions in terms of where we could collaborate," Shanks reportedly said. "We're looking at the strengths and the gaps of each company on both sides of the table and trying to understand how we can help each other."
The Bloomberg report also suggested that Ford CEO Jim Hackett hinted that the partnerships were progressing when he spoke to analysts on the company's earnings call earlier this week.
"We look forward to sharing more about this global redesign of the company," Hackett said, according to Bloomberg. He also added that Ford would be "coming to you more frequently, including we're going to talk about these strategic partnerships in the near future."
Earlier this year Ford and VW signed an agreement to look into a strategic alliance. Historically, the two OEMs also had a commercial vehicles based JV operating in South America called 'Autolatina' which was dissolved in the 1990s.
See also: Ford Q3 profit squeezed by China slump and commodities
The strategic challenges for Ford: Investors may be down, but not out