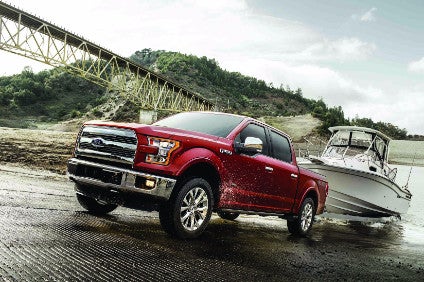 Not for the first time in the last decade or so (think VW group DSG twin clutch transmissions), problems with new automatic gearboxes are causing angst for a major automaker.
Ford is stockpiling 2017 model year F-150 trucks, delaying delivery to dealers while it runs final tests on a new 10-speed transmission, a top executive told Reuters.
The trucks should be delivered by the end of the year, Joe Hinrichs, head of Ford's automotive operations in the Americas, told the news agency.
"We are launching the new Raptor and F-150 with the new 10-speed transmission,"Hinrichs said. "We continued building but we're holding (trucks) longer so we could do more testing and make sure everything is right before we release them."
Noting extra testing is prudent in an industry plagued by frequent and costly automotive safety recalls, Reuters said Ford's shipping delays came as General Motors is aggressively trying to cut into Ford's lead in US pickup sales.
Taking aim at the 'Built Ford Tough' ad campaign, GM launched a series of hard-hitting TV commercials over the summer. Punching holes, literally, in the lightweight aluminium load beds used in Ford's new line of pickups, the ads tout the alleged advantages of the roll-formed, high-strength steel beds in GM trucks.
The Ford F-series line of pickups has been the best-selling model line in the United States for 34 years, and Hinrichs predicted 2016 will make it 35 years in a row, according to Reuters.
The automaker did not disclose to the news agency how many F-150 pickups it was holding. But several hundred vehicles were stored earlier this week behind a chain link fence on an empty factory parking yard in Detroit. More were parked on Tuesday near the Detroit-Wayne County airport. Many were well-equipped Limited or Platinum models with retail prices above US$50,000.
According to the report, Ford designed the 10-speed transmission jointly with GM. 2017 model F-150s with a 3.5 litre V6 engine and the new 10-speed automatic gearbox get a one mile per gallon improvement in fuel economy over comparable 2016 models with six-speed transmissions, according to Reuters, citing federal fuel economy data.
Ford remains the leader in large, light duty pickups with 733,287 F-series trucks sold on the US market to the end of November, according to Autodata.
Ford in October said it would cut a week of production at a Kansas City assembly plant that builds F-150s.
GM has sold 718,994 of its large pickups during the same 11 months. Reuters noted GM said last month it had increased inventory at US dealers by 111,000 vehicles at the end of the third quarter.
GM, Ford and other major automakers in the United States are promoting holiday-themed discounts and financing deals to clear out stocks by the end of the year.
December is a critical month for truck sales, Pete DeLongchamps, vice president of manufacturer relations with Group 1 Automotive, a Houston auto retail chain, told Reuters.
"I expect them to be aggressive."