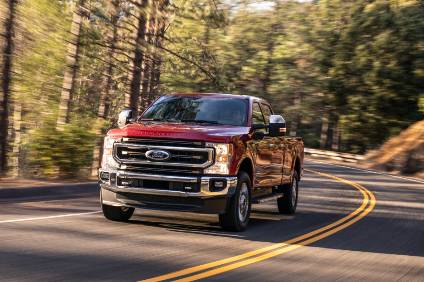 Ford is facing production shortages in the US due to COVID-19 production constraints at an engine plant in Mexico.
Reports say that Ford's Chihuahua engine plant is operating at just 50% capacity due to the coronavirus and that Ford Super Duty truck production at Kentucky is in line to be impacted.
Kumar Galhotra, Ford president, Americas and International Markets Group, provided a statement: "Due to COVID-19, the State of Chihuahua in Mexico has limited employee attendance to 50 percent, a region in which we have several suppliers. With our U.S. plants running at 100 percent, that is not sustainable. While we do not expect any impact to production next week, we are continuing to work with government officials on ways to safely and constructively resume remaining production."
Reuters cited comments made by the US Ambassador to Mexico, Christopher Landau. Landau reportedly said he discussed the issue with an unnamed senior Ford executive earlier this week. "They're saying that they're going to start shutting down factories in the United States as of next week if they don't get that rolling," Landau said, according to Reuters.
Ford's Chihuahua engine plant currently makes a number of engines including the Scorpion 6.7-litre diesel engine used to power Ford's Super Duty pickups.