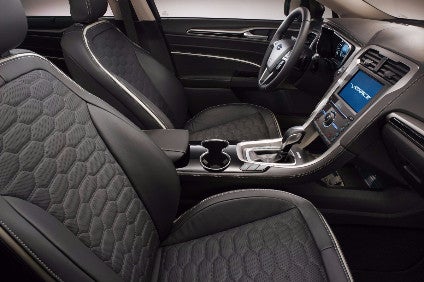 Ford may yet turn the Vignale name into a stand alone brand in Europe once it analyses the response to the upscale versions that will stand at the top of its model lines, just-auto has learned.
The flagship Mondeo Vignale is currently being launched and an S-Max version will follow next year. At the UK media introduction, Ford of Britain sales chief Kevin Griffin, said: "We are stretching where we can go and where we can reach but we are not becoming premium in that that we want to compete with Audi, BMW or Mercedes. Our price range will always be lower but we do want to provide affordable luxury."
That's 'affordable luxury' both with the car and dealerships, added Griffin. The Mondeo comes with high-tech SYNC2 infotainment, leather interior, more chrome and a unique grille. Dealers will provide special Vignale areas with a lounge and specialist service. In the UK, just 55 of Ford's 300 outlets will will become 'FordStores' from where Vignale versions will be sold and serviced along with US Mustang and sporty European made RS variants. The level of investment required to bring those dealers up to Vignale standards varies, said Griffin. Some will be upgrades to existing premises while a few may require a new build. Most will be completed by the end of next year.
Prices in the UK will rang from around GBP29,000 to GBP32,000 (US$45,000-$48,000) which is a premium of only about GPB2,000 (US$3,000) on current Mondeo Titanium X models. The new Vignale is equipped with petrol, diesel and petrol hybrid power trains in four-door sedan and wagon body styles. Intelligent all wheel drive is available as an option.
Griffin said turning Vignale into a brand, as Citroen has done with DS, is under discussion: "In Europe we do not intend to introduce a luxury line like Lincoln in the US but there is room for a brand standing at the top of our ranges."
Vignale will also be one of Ford's three 'hero' models in Europe along with Mustang and US-sourced Edge large SUV. Griffin said: "We have a really strong strategy going forward. As well as our mainstream models we will have an SUV line with Edge, EcoSport and Kuga – and we will stretch that line-up further – plus a performance series with Mustang, Focus RS and GT40."
In the UK, he said, Ford had no arrival date for the GT40 while Mustang would appear next June.
"As far as Focus RS is concerned we have 2,000 orders but no build."