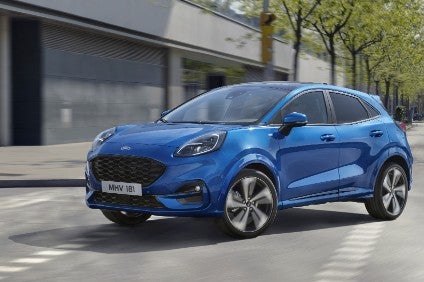 Around 12,000 axed jobs are part of the cost of Ford launching "a new business model and fresh vehicle line-up" today in what it called "the most comprehensive redesign in the history of its business in Europe".
It claimed to be "on track" to significantly improve financial results in the region this year and its longer-term goal of a 6% EBIT margin.
The job cuts will come due to the previously announced proposed or confirmed closure or sale of six assembly and component manufacturing plants by the end of 2020: Bridgend Engine Plant in South Wales, Ford Aquitaine Industries Transmission Plant in France and the Naberezhnye Chelny Assembly, St. Petersburg Assembly and Elabuga Engine Plants in Russia will all be closed while the Kechnec Transmission Plant in Slovakia will be sold to Magna.
Ford will have 18 factories in Europe by the end of 2020 compared with 24 at the start of 2019.
More bad news for UK employees: the Ford of Britain and Ford Credit Europe headquarters in Warley, Essex also will close later this year with operations consolidated in Dunton, also in Essex.
The company has previously axed car making in Dagenham, sold Halewood assembly plant to Jaguar Land Rover and closed its Southampton van plant, transferring the work to Turkey. A car plant in Belgium was also shuttered with most of the work now consolidated in Germany and Spain.
Even there, Ford is reducing shifts at assembly plants in Saarlouis, Germany, and Valencia, Spain, as well as introducing a pruned management structure and marketing and sales operations.
The company said in a statement: "In total, approximately 12,000 jobs will be impacted at Ford's wholly owned facilities and consolidated joint ventures in Europe by the end of 2020, primarily through voluntary separation programmes.
"Around 2,000 of those are salaried positions, which are included among the 7,000 salaried positions Ford is reducing globally."
It added it was "providing support to ease the impact".
"Ford will be a more targeted business in Europe, consistent with the company's global redesign, generating higher returns through our focus on customer needs and a lean structure," said European region chief Stuart Rowley.
The new European structure starts on 1 July.
Three new business groups – Commercial Vehicles (CVs), Passenger Vehicles (PVs) and Imports – have been established "to facilitate fast decision-making centred on customer needs". Each has dedicated management responsible for marketing, manufacturing and product development.
The CVs group will be run by general manager Hans Schep and based at the vehicle development centre in Dunton which is gaining facility improvement and investment.
Ford wants to extend leadership in Europe CVs, including topping the pickup segment, and to double the sector's profitability in Europe in the next five years with help from a new alliance with Volkswagen, the Ford Otosan van joint venture in Turkey and a restructured Ford Sollers joint venture in Russia.
General manager Roelant de Waard in Cologne, Germany, will run PVs, marketing European-built cars and SUVs (Ford also has a plant in Craiova, Romania where the former Daewoo factory makes EcoSport and the just-announced Puma small SUVs).
European passenger vehicle development, including battery electric vehicles, will be centred in Cologne-Merkenich.
The Imports group will continue to bring in the Mustang and add the Explorer and a new "Mustang-inspired" electric performance SUV due late in 2020.
Ford expects to at least triple passenger vehicle imports into Europe annually by 2024.
Three new vehicle models are also promised along with new hybrid and full electric variants.
Every new model will include an electrified option and future battery electric vehicles will be assembled in Europe.
"Our future is rooted in electrification," said Rowley.
"We are electrifying across our portfolio, providing all of our customers with more accessible vehicle options that are fun to drive, have improved fuel economy and are better for our environment."
"We have largely concluded consultations with social partners regarding restructuring actions," Rowley told Reuters.
Ford Europe has 51,000 employees in Europe or 65,000 when joint ventures are included, the news agency noted.