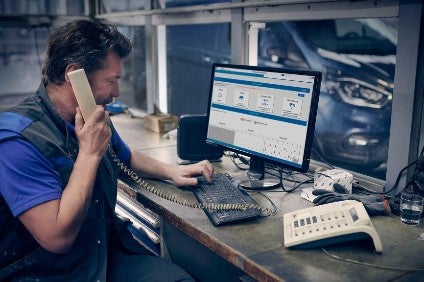 Ford UK on Monday (22 March) announced FordLiive – a new connected uptime system designed to help commercial vehicle operators increase their productivity by maximising vehicle up time.
The automaker claims the product will change the way owners run and maintain their vehicles, by reducing the number of breakdowns, enabling fewer time-consuming visits to dealer workshops, and achieving quicker servicing and repair times. Its projections show the product can potentially reduce vehicle downtime by up to 60%.
Connecting owners, the 'Transit Centre' dealer network and the automaker itself, the system uses real-time vehicle data to individually optimise the productivity of each vehicle in a customer's fleet. Around 500,000 connected Ford commercial vehicles are already operating on Europe's roads with more than 1m anticipated by mid-2022.
FordLiive will be available free with small businesses and larger fleets able to access its benefits through the FordPass Pro app and a dedicated version of the Ford Telematics tool respectively.
"Our customers' businesses stop whenever their vehicles are off the road," said Hans Schep, general manager, commercial vehicles, Ford of Europe.
"Combining the benefits of real-time connectivity with our commercial vehicle know-how, FordLiive is the ultimate tool to optimise uptime. We won't rest in our pursuit of 100% operating uptime for all of our customers."
FordLiive will be progressively rolled out across Europe during 2021 with 80% of customers being covered by dedicated uptime centres before the end of the year. Ford is committed to further increasing capability and will continue to phase in uptime-boosting services across Europe after launch.
Connected vehicles for Smart Maintenance
To ensure each vehicle is available for work when the customer needs it, FordLiive enables Smart Maintenance, allowing scheduling of servicing at the most efficient time and providing notifications when an action is identified that could help prevent a breakdown. Analysing real-time vehicle data, it provides vehicle-specific maintenance information to customers. Small businesses with up to five vehicles receive notifications through the FordPass Pro app while managers of larger fleets are kept informed by a vehicle health dashboard in a dedicated version of Ford Telematics.
Vehicle health data is automatically sent by the vehicle's FordPass Connect modem, standard on Transit, Transit Custom, Transit Connect, Ranger and Fiesta Van models since mid-2019.
Using data and insights from a 'leading roadside assistance service in the UK', engineers have estimated that up to 30% of call-outs could be avoided if customers respond to these Smart Maintenance notifications. In addition to helping operators plan maintenance and schedule convenient service times, notifications help customers monitor and manage remaining oil life, AdBlue levels and tyre pressures to reduce the likelihood of unscheduled downtime.
Smart Maintenance provides operators with a plain language explanation of any warning lights or messages activated in the vehicle as well as displaying their potential impact on vehicle operation and guidance on appropriate maintenance. Operators will also be notified if their vehicle is subject to a recall.
Ford Service Pro improving dealer capability
To optimise the dealer experience for customers, new Ford Service Pro offers a suite of specialist services built around commercial operators' servicing needs, using new connected data features to streamline tasks and deliver faster turnaround.
The 800 dealers can see the past 60 days of customers' vehicle data through Smart Diagnostics, supporting faster diagnosis and enabling parts to be proactively ordered ahead of a vehicle arriving in the workshop. Shared vehicle data also helps dealers provide the most effective operating advice for customers, including bundling upcoming tasks to minimise workshop appointments and facilitating triage for urgent repairs. In the event of extended downtime being unavoidable, dealers' insight into the customer's specific requirements will help identify the required capable replacement vehicle to keep their business moving.
FordLiive is also increasing the connectivity of engineers by piloting virtual reality headsets, "teleporting" experts into dealers to help diagnose complex issues and offer effective solutions, saving on the time and cost of physical travel. These new services are in addition to the varied range of available assistance delivered through the dealer network to optimise uptime, including extended opening hours, overnight servicing, while-you-wait express service, vehicle collection and delivery, and mobile servicing.
Three new FordLiive Centres in 2021
Crucial to the new offering, FordLiive Centres are staffed with dedicated expert agents, focused exclusively on keeping customers on the road by identifying and quickly responding to emerging issues.The teams at these uptime centres use new UptimePro software, which receives live data from dealers to track every repair for optimum uptime. If the system detects delays to repairs or repeated visits from the same vehicle, agents will advise on the best solution to identify and fix the underlying issue as quickly as possible. Agents act as the automaker's eyes and ears to ensure that expert teams are immediately involved to support the dealer whether they require in-depth technical support from engineers or accelerated parts supply to fix a customer's vehicle.
FordLiive Centre locations include Ford's Dunton Campus, UK – co-located with Transit engineering teams for maximum knowledge crossover – and is already closing cases from customers in the UK and Ireland. A second centre in Valencia, Spain, serves customers in that market from launch and will later expand to cover France, Italy and Portugal. Customers in Austria, Germany and Switzerland will be served by a third centre in Cologne, Germany, opening later this year. Additional markets will follow, and European centres will benefit from hotlines to Dunton for faster support and issue diagnosis if required.
As the service rolls out across Europe, Ford Fleet Management customers will also be able to benefit from tailored uptime solutions developed around their unique requirements and delivered as part of their ownership package from dedicated teams working with FordLiive Centres.