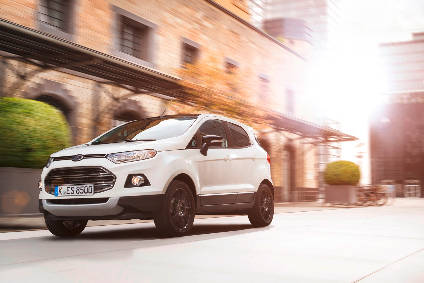 Ford says it achieved its best first quarter total vehicles sales in Europe since 2010 with sales across all of its 50 European markets at 401,200 vehicles – up 8.4% versus industry growth of 5.4%.
Ford said it remains the No. 2 brand in Europe (Volkswagen leads the market) and Ford said its market share was up 0.3 percentage points to 8.0%.
"There's a growing sense of excitement about Ford in Europe, from the new Mustang and Focus RS, to our growing SUV line-up, to our best-selling commercial vehicles," said Roelant de Waard, vice president, Marketing, Sales and Service, Ford of Europe. "We're reaching more customers, and importantly, we're winning over even more retail and business fleet customers who are increasingly choosing highly-equipped Ford vehicles."
Ford said its sales in higher value sales channels improved in the first quarter. Retail and fleet sales accounted for 75% of Ford's car sales in the first quarter – 2 percentage points better year-over-year, and 6 percentage points better than the industry average, Ford said.
Ford said the first quarter also saw an increase in the sale of higher specification Ford models. Sales of top of the standard range Titanium specification models were up 8 percentage points in Ford's 20 European traditional markets, from 34% of sales, to 41%. All high series models – Titanium models, Mondeo Vignale, Fiesta ST, Focus ST petrol and diesel, and Fiesta and Focus Red/Black Editions – accounted for 60% of Ford passenger car sales in the first quarter, up 4 percentage points on the first quarter 2015.
Ford is planning to expand its upscale Vignale line with three new models this year – S-MAX Vignale, Edge Vignale and Kuga Vignale – joining the Mondeo Vignale which went on sale in 2015. By 2017, Ford will have five Vignale models in the market.
SUV focus – Ford Europe SUV sales to grow 30% this year
De Waard emphasised the importance of SUVs – a hot segment in the European marketplace. "SUVs are an important part of our growth strategy as we move forward in Europe", he said.
Ford sold 14,600 units of its EcoSport compact SUV in Europe in the first quarter – a 50% improvement year-over-year. Kuga sales enjoyed their best-ever first quarter sales, with 30,700 customers around Europe buying Ford's mid-size SUV, equating to a 23% increase over the same period last year.
Ford said that it will bolster its SUV line-up with the launch of new Kuga and Edge in the second half of this year. Combined with the growing demand for the Kuga and EcoSport, Ford expects its SUV sales to grow by about 30% in 2016 compared with 2015, and to break the 200,000 sales barrier for the first time in Europe.
UK car market forecast at 2.8m
The UK car market is Ford's biggest in Europe. The month of March is an important one in the UK car market due to a registration plate change (occurs also in September to make March and September the year's biggest months). Ford sales in the UK car market are slightly down in the first quarter, but, like the market, running at a very high level. After a 2.63m unit outturn for 2015, there are signs that the overall market is plateauing out, though at a historically extremely high level. In March the market was running at an annualised rate of 2.9m units. Ford forecasts a total UK car market of 2.8m units in 2016.
However, de Waard acknowledges the risks to the UK car market and its automotive sector of an out vote in the UK referendum. "Our primary interest is in maintaining stability and avoiding uncertainty in the trading environment so that we can continue to build an even stronger business and create a more secure future for our almost 14,000 employees in the UK. We believe this is best achieved if the UK stays as a member of a reformed EU."
Russia – market stabilising, margins improving
The Russian car market has been something of a horror story in recent years due to severe recession and the collapse of the rouble, Ford opting to stay with it for long-term gains when other foreign OEMs have left or massively scaled down presence. De Waard sees signs of market stabilisation and Ford sales bucking the declining market trend. "Sales of Ford products increased by 93% in the first quarter in the Russian market, despite the market being down 17%," he says." We launched five new Ford models in the country last year, and sales of the Kuga SUV are particularly strong."
And he says margins are finally improving . "We are seeing signs that the market is starting to stabilise, and margins are slowly improving."
De Waard maintains that the long-term picture in Russia will be positive and Ford is well-placed to benefit when that happens. "Over the medium term, Russia will remain a volatile and challenging market, but we believe the Russia market has significant potential in the long term and we are well positioned to thrive with the eventual market recovery."