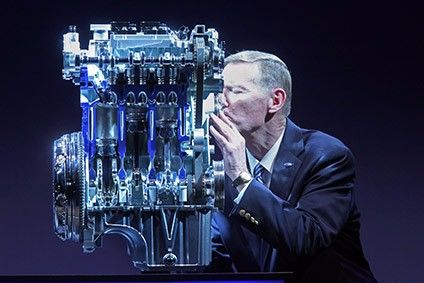 Year to date, sales of EcoBoost-powered Ford vehicles are up 46% in the US and the automaker expects to see 1m sold this year for the first time.
EcoBoost is available on every non-hybrid light-duty passenger vehicle in the US model line. The technology combines smaller engines with turbocharging, direct injection and variable valve timing – as well as proprietary engine management software – to bring fuel efficiency but with expected performance.
To the end of October, Ford sold 210,239 EcoBoost-powered F-150 trucks in the United States. The Escape [aka Kuga outside the US] is the company's next best-selling EcoBoost-equipped vehicle, with sales of 203,855 vehicles. Fusion, at 105,999 EcoBoost-equipped cars sold, claims the third spot.
EcoBoost accounts for 78% of Escape sales, 64% of F-150 sales and 43% for Fusion.
New models with the technology – Transit and Mustang – have bolstered EcoBoost sales, and helped fuel overall sales growth. Ford sold 89,621 Transit vans with EcoBoost to the end of October, while Mustang, with 39,420 cars, rounded out the top five.
The automaker's global EcoBoost engine family now includes the one-litre three cylinder; 1.5-, 1.6-, two- and 2.3-litre four cylinder engines; and the 2.7- and 3.5-litre V6s. A Lincoln-exclusive three-litre V6 make its debut in 2016.
To meet demand for the two-litre twin-scroll EcoBoost now available on the new Edge, Ford recently spent US$200m at its Cleveland engine plant where production began this year.
In 2013, it doubled capacity at its Cologne, Germany, plant to more than 1,000 EcoBoost engines a day to meet strong demand for the one-litre I3 now powering one in five of its vehicles sold in Europe. This engine is offered in the US in the Fiesta and Focus.