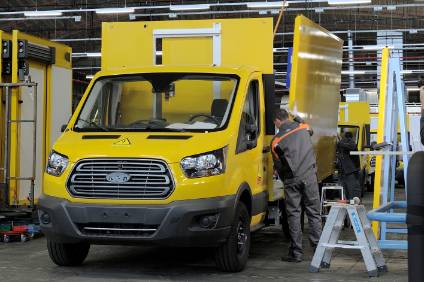 Ford has begun production of the Deutsche Post StreetScooter WORK XL electric van at its European HQ in Cologne, Germany.
Based on a Transit chassis, produced at the Ford Otosan joint venture plant in Kocaeli, Turkey, the medium-sized electric delivery van is fitted with a battery-electric drivetrain and a body designed and built to StreetScooter specifications.
Around 180 Ford employees are working in two shifts to build up to 16 WORK XL models per day, providing an annual production capacity of 3,500 units.
"Manufacturing the StreetScooter WORK XL at our plant in Cologne brings together perfectly Ford's unrivalled expertise in commercial vehicle production along with StreetScooter's strengths as an agile start-up company," said Joerg Beyer, managing director, Product Development, Ford of Europe.
"This joint project underlines that as well as being a volume manufacturer, we can also deliver smaller production runs."
WORK XL is the largest delivery van in the StreetScooter portfolio, with a load volume of 20 m3, room for more than 200 packages, and a payload of up to 1,275 kg. Ford will manufacture the van with a range of electric motors and lithium-ion batteries, delivering up to 90 kW (122 PS) and a maximum torque of 276 Nm. With a battery capacity of up to 76 kWh, the WORK XL has a range of up to 200 kilometres. Compared with diesel models, each electric delivery van will offer a reduction in CO2 emissions of 5 tonnes each year and a saving of 1,900 litres of fuel.
Deutsche Post DHL is using the WORK XL to support its urban parcel delivery service in Germany, while the future availability of the electric van to third-party customers is under consideration.
See also:
Deutsche Post and Ford show off e-van