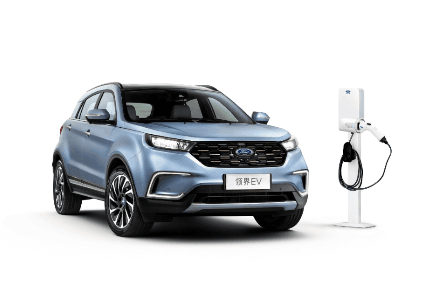 Ford has announced its new China-exclusive, full battery electric version of the Territory midsize SUV.
Though the automaker has offered a full electric Focus elsewhere, this is Ford China's first battery electric vehicle (BEV).
It has a 360kkm range on the New European Driving Cycle and is the first full BEV midsize SUV jointly developed by joint venture automakers in China – Ford and its joint-venture partner Jiangling Motors Corporation (JMC).
The Territory EV also is the company's first new energy vehicle introduced since it announced its Ford China 2.0 restructuring plan in April.
A new product plan is a key part of China 2.0 which accelerates the development and delivery speed of new products and services in China, and aims to improve the automaker's competitiveness in the market. As part of this, the company plans to launch more than 30 new Ford and Lincoln vehicles during the next three years, including more than 10 new energy vehicles to better serve customers.
Ford is spending US$11bn on electric vehicles globally between 2017 and 2022.
China is the world's largest market for new energy vehicles. Industry sales data shows that BEVs have maintained an annual growth rate of more than 50% consecutively over the past three years, growing to 3% of overall passenger vehicle sales in 2018. Plus, the full battery electric midsize SUV segment in China is growing.
"Ford Territory opens a new era of collaboration between Ford and JMC, and Territory EV is another key product from our deepening collaboration," said Qiu Tiangao, chairman of Jiangling Motors Corporation. "This all-new choice for customers will meet the needs of young Chinese families for new energy vehicles with high-quality design, a spacious interior and suite of smart technologies."
The EV version has a unique Moonlight Blue paint option and EV badge. The black honeycomb grille is adorned with a copper-coloured strip and daytime running lights have been upgraded from an L-shape to a C-shape and are mounted between the two air intakes on the front bumper.
Unique carbon fibre 'blades' on the wheels make the vehicle sportier and help reduce air resistance.
Full LED taillights provide a more three-dimensional look, with a refined light strip and intricate details.
A two-tone grey interior is also unique to the EV with high-gloss black paint, carbon fibre texture, perforated surfaces, polished metal and other materials.
Using the FordPass App on a smartphone, owners can locate the Territory EV, remotely control the air conditioning, check remaining range and remaining charging time, find nearby charging spots, and remotely view and control the charging status.
The EV will officially launch in China in the second half of this year. Ford will provide charging service in selected cities.