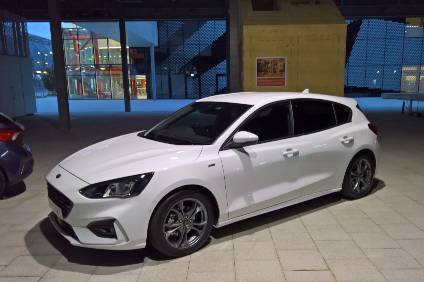 Ford has boosted the level of advanced driver assistance systems (ADAS) equipment in its latest fourth generation Focus model now going on sale in Europe.
Ford says the new Focus comes with a suite of features that take it to SAE level 2 automation.
Advanced technologies on the new Ford Focus include:
Adaptive Cruise Control (ACC) enhanced with Stop & Go, Speed Sign Recognition and Lane-Centring for negotiating stop-start traffic. ACC works at speeds up to 125mph and the new Stop & Go feature enables the ACC system to bring the vehicle to a complete halt in stop-start traffic using up to 50 per cent of total braking force, and automatically pull away if the stopping duration is less than three seconds;
An Adaptive Front Lighting System with new camera-based Predictive curve light and Sign-based light that pre-adjust headlamp patterns for improved visibility by monitoring bends in the road and – for the first time in the industry, Ford claims – road signs;
Active Park Assist 2 that also operates gear selection, acceleration and braking to 'enable fully-automated manoeuvres at the push of a button';
Ford's first Head-up display (HUD) to be offered in Europe;
Evasive Steering Assist, a segment-first technology that helps drivers steer around stopped or slower vehicles to help avoid collisions;
Cross-traffic alert with active braking;
Post-collision braking (designed to prevent secondary collisions).
Ford says that the Saarlouis (Germany) built new Focus has been engineered from the ground up and is the first vehicle globally to be based on Ford's new C2 architecture designed to enhance crash performance and deliver more interior space for Ford's mid-size models – without negatively impacting exterior dimensions.
"Our all-new Ford Focus is the pinnacle of technology and driving appeal in its segment," said Joe Bakaj, Ford European product development vice president. "The chance to build a completely new car from a fresh piece of paper does not come around often. We grabbed it with both hands, to develop the best mid-size family car that money can buy."
"Focus has been our heartland in Europe for two decades. Leading the pack for design, technology and driving fun, it encapsulates everything our customers love about Ford," said Steven Armstrong, Ford group vice president for Europe, Middle East and Africa. "With mid-size family cars accounting for almost one-in-five sales across Europe last year, Focus remains as important as ever to our company and our customers, which is why we've put so much energy into developing an all-new model that is among the very best cars we've ever produced."
Ford claims that the new model comes with a 20 per cent torsional rigidity improvement on the previous Focus. It also says isolated independent rear suspension offers Continuously Controlled Damping – a first for Focus – to improve driving dynamics and improve comfort.
There is also a new eight-speed transmission to accompany a 1-litre EcoBoost petrol engine and 1.5 EcoBlue diesel engine at launch. A 1.5-litre EcoBoost and 2-litre EcoBlue, plus all Vignale and estates, are added from November and an Active crossover variant follows at year-end.
Ford also says the new Ford Focus marks an evolution in Ford design language with a "human-centric" design philosophy that unites expressive form language with functional, customer-driven attributes. It says the Focus has matured proportionally, to reflect a more premium, sporting silhouette while offering increased comfort and roominess. The new silhouette is achieved principally through positioning the A-pillars further rearward; a proportion that allows them to aim towards the centre of the front wheel while the sheet metal of the C-pillars sits squarely over the rear wheels. The resulting longer bonnet/hood and flowing front fender, coupled to a 'marked reduction in the wedge of the beltline', is aimed at enhancing the car's 'premium and sporting character'.
Extending the wheelbase by more than 50 millimetres also enables a larger tyre diameter, allowing the wheels to be positioned higher into the sheet metal and 'reducing the perception of length and visual mass'.
ACC works at speeds up to 125mph and the new Stop & Go feature enables the ACC system to bring the vehicle to a complete halt in stop-start traffic using up to 50 per cent of total braking force, and automatically pull away if the stopping duration is less than three seconds.
Designed to support drivers at speeds up to 125mph, the technology will deliver visual and audible warnings if it detects a lack of steering wheel input from the driver.
The system uses the forward-facing camera to monitor lane markings up to 65 metres ahead, enabling light from the headlamps to be angled into the corner pre-emptively for improved visibility on approach, rather than relying solely on the driver's steering wheel inputs. The Ford-patented integration of road sign-reading capability to optimise beam patterns enables the beam to be widened at junctions and roundabouts to better illuminate hazards that are not in the direction of travel, it is claimed.
Active Park Assist 2 makes parallel parking easier: delivering fully-automated manoeuvres into parallel and perpendicular parking spaces at the push of a button. Enabled by the shift-by-wire capability of Ford's new eight-speed automatic gearbox, the system identifies suitable parking spaces and the driver can control vehicle motion by simply selecting neutral and holding down a single centre console-mounted button. The vehicle then fully controls forward and reverse gear selection, throttle and braking, as well as steering – manoeuvring into spaces just 110 centimetres longer than the car and on gradients up to 12 per cent at speeds of up to 4 km/h (2.5 mph), before engaging park. The technology can also help driver exit parallel parking spaces using fully automated Park-out Assist.
Ford's Pre-Collision Assist comes with Pedestrian and Cyclist Detection technology that can detect people in or near the road ahead, or who may cross the vehicle's path. The system automatically applies the brakes if it detects a potential collision and the driver does not respond to warnings; can now also detect cyclists; and functions in the dark using light from the headlamps.
The new Focus introduces FordPass Connect embedded modem technology for Ford customers in Europe, turning the vehicle into a mobile WiFi hotspot with connectivity for up to 10 devices. In addition to helping drivers plan faster, less stressful journeys with Live Traffic updates for the navigation system and enabling occupants to stream entertainment on the move, FordPass Connect allows a range of convenient features via the FordPass mobile app, including:
Vehicle Locator, helping owners find their car in sprawling shopping mall car parks;
Vehicle Status, for checking fuel levels, alarm status, oil life;
Door Lock Unlock, to remotely allow access the car;
Remote Start, for Focus models with eight-speed automatic transmission;
eCall functionality, which automatically dials emergency services in the event of a serious accident, and enables occupants to be directly connected to the emergency services by pushing an SOS button in the overhead console.
FordPass Connect is an optional extra. The on-board modem will be connected at the time of vehicle delivery. Customers may choose to opt in/opt out of certain data sharing. The technology will be made available in selected markets in 2018, with the remaining markets following through 2019.
Live Traffic access is complimentary for the first 2 years following the purchase of a new Ford featuring SYNC 3 with navigation; thereafter a licence fee is payable.