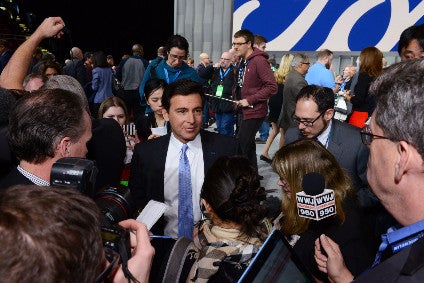 Ford Motor Company on Thursday (28 April) announced a record quarterly pre-tax profit of US$3.8bn for the first quarter of 2016, up $2.1bn; net income up 113% to $2.5bn, up $1.3bn and after-tax earnings per share of $0.68, excluding special items, up $0.39 year on year. Automotive operating-related cash flow of $2.7bn was also a first quarter record.
Automotive pre-tax profit was also a record – $3.3bn, up $2.0bn year on year, and automotive operations outside North America were profitable in total. Automotive operating margin of 9.8% was another record as was the North America quarterly record pre-tax profit and operating margin. The Europe region achieved its fourth consecutive quarterly profit and best quarter since 2008 and "Ford Credit continued to deliver strong results", according to the automaker.
By region, North America achieved best-quarter-ever pre-tax profit of $3.1bn, up $1.5bn, with a record operating margin of 12.9% as market share improved in North America and the US thanks to strong fleet sales of SUVs, Transit vans and F-150 trucks. Wholesale vehicle sales rose 136,000 to 814,000 unit. For full year 2016, Ford expects pre-tax results to be abnout equal to 2015 with an operating margin of 9.5% or higher.
Europe continued to improve, with pre-tax profit of $434m higher than full year 2015 and a year on year pre-tax profit improvement of $476m due to "favourable volume and mix" as well as lower costs. Wholesales rose 23,000 units to 399,000 as wholesale volume, market share and operating margin each improved year on year in the quarter. Ford, noting it remains Europe's best selling commercial vehicle brand, thanks to the Transit van and Ranger pickup, said it expects Europe pre-tax results to be higher than 2015.
Reflecting the ongoing recession in Brazil and currency devaluation in Argentina, Q1 results in South America all declined year on year though the automaker lowered costs across many areas of the business. The higher loss (-$256m versus -$67m) was due to lower industry sales, primarily as a result of a 29% reduction in Brazil alone. Wholesales fell 38,000 to 63,000 units. For 2016, Ford expects the region's pre-tax loss "to be greater than 2015 due to the difficult business environment".
In Middle East and Africa, results, Ford said, "were adversely impacted by the external environment including low oil prices and political strife". Financial results reflected unfavourable exchange rate for the South African rand, and higher costs. The pre-tax loss improved from -$93m to -$14m as wholesales dipped 1,000 units to 46,000. Full year 2016 pre-tax results are forecast equal to or higher than 2015.
Asia Pacific "delivered a strong quarter", Ford said, with pre-tax profit of $220m, up $115m year on year, and an operating margin of 8.2%. China joint ventures contributed $443m to the pre-tax profit, up $83m year on year. The profit improvement was driven by higher volume and favourable mix thanks to new products including the Edge, Ranger and Lincoln in China. Wholesales rose 32,000 to 398,000 units.
"The first quarter was an absolutely terrific start to the year – an all-time record for the company, with very strong performance across the business," said Ford president and CEO Mark Fields in a statement. "We're excited about our future and confident in our ability to deliver long-term growth and profitability, as we expand our business model to be both an auto and a mobility company."
"The first quarter was outstanding, and we are confident in our ability to drive strong results globally. We expect 2016 to be a great year, and we plan to continue rewarding our shareholders through both supplemental and regular dividends as a part of our distribution strategy," added CFO Bob Shanks in the statement.
Reuters noted that Ford's record 12.9% operating margin in North America contrasted with General Motors' first-quarter operating profit margin of 8.7% and Fiat Chrysler Automobiles' 7.2%.
Shanks told Reuters the company did not change its forecast for a North American profit margin for 2016 of 9.5% or better, after reporting a 10.2% margin last year. Ford maintained its 2016 forecast of a pretax profit that will equal or improve upon the record $10.8bn last year.
Shanks also said the second half of the year was not expected to generate as much profit due largely to downtime for production plants in North America for summer and end-of-year shutdowns.
He told Reuters the company would "tweak" production downward at some plants during the second half. He did not specify which plants would be affected, but said that cars are not selling as well as trucks and SUVs.