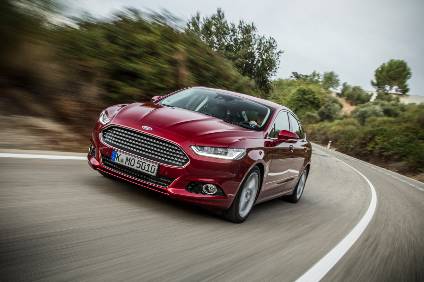 Ford is to phase out Mondeo model production in early 2022, with no direct replacement in prospect.
Ford said the decision was taken as a result of a 'growing change in customer preferences'. Ford's other large crossover and multi-purpose vehicles – the seven-seat Ford Galaxy and Ford S-MAX – will continue in production, with full hybrid versions of both recently launched.
Ford also said that in 2020, 39% of Ford Europe's passenger vehicle sales were SUVs and crossovers – up eight percentage points from 2019. Moreover, customers are showing more confidence in electrification technologies, with more than 50% of Kuga owners purchasing a Kuga PHEV.
The Mondeo axe was contained in a statement of Ford's plans to invest in electrification and its plans for the Valencia plant, in Spain, where the current Mondeo is being built (after it was moved from the closed down Genk plant, Belgium, in 2015).
Ford said a new 2.5-litre Duratec hybrid engine will be built at Valencia from late 2022 and there will also be increased battery pack assembly capacity.
The 2.5-litre Duratec hybrid engine – which is built currently at Ford's Chihuahua Engine Plant in Mexico – will be manufactured in Valencia alongside the 2.0-litre and 2.3-litre EcoBoost petrol engines for which demand remains strong, Ford said.
Ford also confirmed an additional EUR5.2 million to support increased battery pack assembly capacity at Valencia following an initial EUR24 million investment announced in January 2020, with the facility starting operation in September last year. The extra capacity is required to support increased demand for current and future electrified vehicle production.
Earlier this year, Ford announced it is investing at least $22 billion globally in electrification, nearly twice the company's previous electric vehicle investment plans, and that it investing $1 billion to create the Ford Cologne Electrification Center in Germany for the manufacture of electric vehicles, the company's first such facility in Europe. Ford's first European-built, volume all-electric passenger vehicle will be built at the facility in 2023, with the potential for a second all-electric vehicle under consideration.
By mid-2026, 100 percent of Ford's passenger vehicle range in Europe will be zero-emissions capable, all-electric or plug-in hybrid, moving to all-electric by 2030.
'World Car'
The clue to the car's reason for existence is in the model name. Launched in 1993, the Mondeo was the first Ford vehicle to be hailed as a "global" car, intended to consolidate a number of Ford models around the world. It is made by Ford's JV in China and a version was made in the US and sold as 'Fusion' (discontinued in 2020). Since its launch in Europe where it replaced the Ford Sierra, Mondeo sales have reached around five million to date.
Ford says it is fully committed to evolving its passenger vehicle portfolio in Europe, strengthening its position with vehicles like the Kuga, Puma and Explorer PHEV. The company is introducing new nameplates into Europe, with the all-electric Mustang Mach-E just being launched – and including the Mustang Mach-E GT coming later this year – and its first all-electric volume passenger vehicle coming to market in 2023.
Comment
Ford's decision to end sale of its Mondeo model with no direct replacement reflects both changes in the make-up of the European passenger car market and Ford's current new product development priorities.
The upper-medium D-Segment of the European car market – once a mainstay segment for the big volume carmakers – has been severely squeezed in recent decades. Increasingly, consumers seeking a large family car have turned to SUVs or the products of the premium brands.
For those able to recall the Ford Mondeo's nameplate predecessors in Europe – the Ford Sierra and before that, the mighty Ford Cortina (or Taunus in Germany) – the announcement of Mondeo's final demise may well be tinged with a little sadness.
However, the decision makes sense for Ford in Europe from a product development perspective. Ford is investing heavily in electrification and sees SUVs and crossovers such as the Kuga – especially in its plug-in hybrid format – as occupying sales once taken by cars such as the Mondeo. It would make little sense to invest considerable funds in a new generation Mondeo in its much-diminished market segment when there are other priorities.