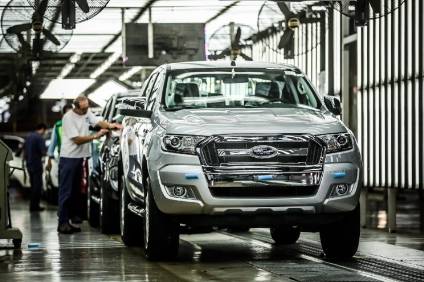 Ford in Argentina is reportedly planning to stop building the Focus model at its Pacheco plant in Argentina.
Reuters reported that the move – planned for next year – is aimed at reducing losses on Ford's South American operations. The report also said the plant will continue to build the Ranger pickup. Ford is also said to be in talks with the local union over future manning levels at the plant, which currently employs 3,400 workers.
According to Reuters, Ford said South American customers are increasingly preferring SUVs and crossovers over traditional passenger cars such as the Focus. Ford recently dropped plans to sell the latest Focus model in the US market. The car was to be shipped to the US from Ford's China JV plant, but the plan was cancelled following the imposition of new 25% import tariffs on Chinese made autos.
There are also reports that Ford is discussing manufacturing partnership possibilities with Volkswagen, including a partnership in Brazil.
Reuters reported that Ford said in a statement it is evaluating "multiple alternative investment projects" in South America, where "a significant redesign of our business model is required to determine where and how we should participate" in the market.
Ford said last year that it plans to add a new SUV, the Tarek, at the Pacheco plant.
The two companies previously shared vehicle development and assembly in South America in a joint venture called Autolatina, that ended in the mid-1990s.
Inaugurated on September 21, 1961, the Pacheco Industrial Centre of Ford Argentina recently celebrated its 57th Anniversary.
Besides making the Focus and Ranger, Pacheco also has an engine plant producing Puma engines. The engines manufactured in the Pacheco Industrial Centre are the Puma 3.2L TDCi Puma TDCi 2.2L.