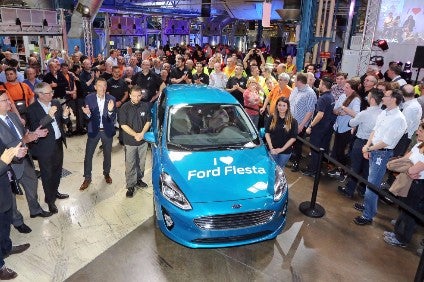 As part of a European business restructure announced in January, Ford is reorganising its workforce in the region by up to 5,000 jobs.
"The goal is to significantly decrease structural costs, reduce bureaucracy, empower leaders and managers, and eliminate less value-added work," the automaker said in a statement.
It has now offered "voluntary separation" programmes for employees in Germany and the UK "to help accelerate the plan and return to sustainable profitability and Ford of Germany expects to reduce in excess of 5,000 jobs, including temporary staff.
The total number of positions impacted in the UK is still to be determined, Ford said.
Ford employs around 53,000 people across Europe with around 24,000 in Germany, thelocal.de reported.
In the UK, Ford plans to axe 1,150 jobs, the report said, citing Britain's Unite union.
As reported by just-auto, in France, the group plans to close a plant making gear boxes near Bordeaux, costing 800 jobs and drawing the ire of the French government.
Restructuring includes:
Establishing three customer-focused business groups in Europe – Commercial Vehicles, Passenger Vehicles, and Imports
Accelerating key fitness actions and reducing structural costs
Reducing the complexity of existing products, optimising the most profitable vehicle configurations and increasing volumes of profitable vehicle lines
Changes to Ford's vehicle portfolio – with a more targeted vehicle line up, improving or exiting less profitable vehicle lines such as the C-Max MPV line