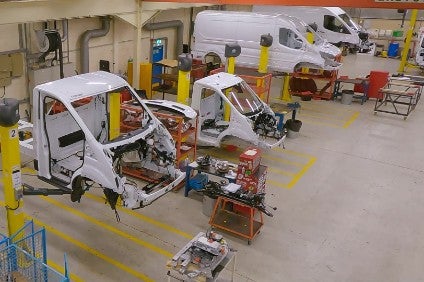 The first European customer trials of the new E-Transit – the EV version of the world's best-selling cargo van – will soon be under way, the automaker announced as its US unit launched a new information website ahead of opening order books this summer.
Prototype vehicles will be joining customer fleets to operate in real world conditions with major businesses in the supermarket, home delivery, postal services and utilities sectors across Germany, Norway and the UK.
European customer trials form part of an extensive development programme for E-Transit ahead of its launch in spring 2022. Beginning late summer this year, they have been designed to confirm that the EV can comfortably meet the demands of a wide range of operating scenarios.
Engineers will use data from the trials to help refine connected vehicle technology and range management features to offer optimised operating.
Prototype vehicles taking part in the trial – assembled at the commercial vehicle R&D centre in Dunton, Essex – will include van and chassis cab variants with conversions including refrigerated bodies, box vans, dropsides and interior racking. European customers will be offered a choice of body, length, roof height and Gross Vehicle Mass options from launch, giving 25 possible variants to suit a wide range of businesses.
The load area is common with diesel-powered Transit models for ease of conversion, and to allow existing ICE operators to reuse racking with the EV.
A claimed industry-first ProPower Onboard system delivers up to 2.3kW through standard plugs to power conversions and equipment in the cab and load area.
Anticipated payload is up to 1,616kg for vans and up to 1,967kg for chassis cab models.
The powertrain delivers up to 200kW of power for a targeted WLTP range of up to 217 miles, supported by range-boosting technology including Eco Mode and Scheduled Pre-Conditioning. Operators will additionally benefit from new SYNC 4 technology including a 12-inch screen and optional cloud-connected navigation, enhanced through automatic wireless software updates.
Ford expects service cost of ownership to be approximately 40% lower compared with ICE models as a result of lower maintenance expenses.
Meanwhile, in the US, and a size larger, Ford opened a website for potential buyers to register interest in the full-size EV van ahead of order banks opening by July.
The US E-Transit has updated pricing with a targeted starting MSRP of US$43,295 for the cutaway – lower than originally announced – to $52,690 for the high-roof extended-wheelbase cargo van.
To date, over 450 commercial customers in North America, including 200 top fleets and fleet management companies, have said they're interested in purchasing the EV.
The US E-Transit will be built alongside the ICEs at Kansas City Assembly Plant in Claycomo, Missouri. Ford promises a familiar vehicle layout, driver experience, connectivity and dealer support for the EV variants.
Its data shows that in the US, 70% of the full-size bus and van business is going all-electric by 2030 or 300,000 vehicles annually.
Preliminary conversations with commercial customers indicate a mix for demand across all eight configurations, with roughly 40% leaning toward high-roof vans and 60% pointing to medium-roof, low-roof, cutaway and chassis cab versions.
Internal data shows early order indicators favour the delivery segment but buyers are also in equipment rental; local, state and federal government agencies; utility services; and telecommunications. There are also plans for recreational vehicles, school buses, automotive service, carpet cleaning, service vans and other commercial applications. More unusual applications offered include armored transport, blood donation units and prisoner transport.
Insight from 30m miles of customer telematics data showing that the average US commercial van drives 74 miles per day. With a usable battery capacity of 67 kilowatt-hours, the low-roof E-Transit cargo van has a targeted driving range of 126 miles.
As in the UK, optional Pro Power Onboard turns E-Transit into a mobile generator with up to 2.4 kilowatts of available power to help customers use and recharge job site tools ranging from belt sanders to mitre saws. When paired with an activated standard embedded modem, standard SYNC4 brings connected items to help fleets manage charging transactions, telematics services and similar.
E-Transit offers the same cargo dimensions and standard mounting points as the petrol-powered van so fleets can continue to use the same upfits, racks, bins and accessories they have now.
Again as in the UK, scheduled maintenance costs over eight years/100,000 miles are projected to be 40% less than for the ICE Transit based on recommended service schedules published in 2019 and 2020 owner's manuals.
Early production E-Transit will be seen across North America this summer as Ford rolls out a pilot programme in which key customers test the electric van across a variety of uses.