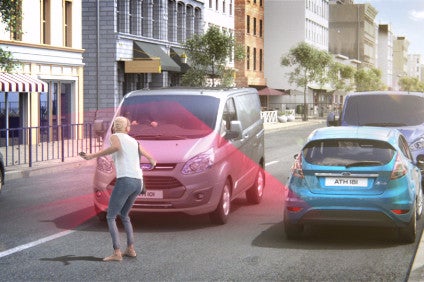 Ford is introducing car-like technology that enables vans to detect people in the road and automatically apply the brakes if the driver does not respond to warnings.
First developed for passenger cars, pedestrian detection processes information from a radar located in the bumper, and a windscreen-mounted camera; while a database of "pedestrian shapes" enables the system to distinguish people from roadside scenery and objects such as trees and road signs.
Now available for Turkish-built Transit and Transit Custom vans, pedestrian detection technology can also predict when people may stray from the pavement and into the path of an oncoming vehicle. It is the first time that the technology has been made available for commercial vehicles of this size, Ford claims.
According to official data, more than 70,000 pedestrians lost their lives on European roads between 2004 and 2013. The automaker recently surveyed 10,000 people across Europe to better understand the issues of distracted pedestrians crossing roads, including situations when there is no official crossing. Most smartphone users surveyed (57%) admitted using their devices when crossing the road and nearly half (47%) talk on the phone.
"It only takes a split second for a delivery driver to check an address, but that can be just the moment when an unwary pedestrian steps into the street," said Gregor Allexi, active safety engineer, Ford of Europe. "In cases like this, pedestrian detection technology can help to avoid an accident, or reduce its severity."
Engineers have tested the system on closed circuits, using rigs fitted with life-size dummies. The development team also spent months testing and refining the system on roads in European cities packed with pedestrians such as Paris and Amsterdam to prove system reliability under real-world conditions, covering more than 10,000 kilometres (6,000 miles) of urban driving.
The emergency braking system, Pre-Collision Assist, functions in a series of stages. If the system detects a pedestrian and determines that a collision has become imminent, the driver will first receive an audible alarm and visual warning in the instrument cluster.
Should the driver fail to respond, the system then shortens the time required to apply the brakes by reducing the gap between brake pads and discs. If there is still no response from the driver, the brakes are applied automatically and the vehicle speed is reduced.
"Advanced technologies, like Pre-Collision Assist, that were billed as future technology only a couple of years ago are now starting to make a difference on UK roads by helping drivers to react fast to the unexpected, such as a pedestrian walking out in front of them," said Luke Bosdet, spokesman for the AA. "For delivery and other business van drivers, this is a major advance, not only in helping to prevent accidents, but also protecting drivers from incidents that were not of their making and that would disrupt business."
The Transit and Transit Custom commercial vehicles featuring pedestrian detection are now on sale across Europe, powered by a new two-litre EcoBlue diesel engine, which is claimed to offer improved cost of ownership and performance, with fuel consumption reduced by up to 13%.
The new models benefit from further advanced technologies to enhance confidence and comfort behind the wheel including adaptive cruise control, traffic sign recognition and side wind stabilisation.