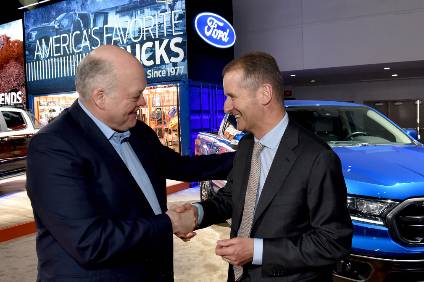 Ford has posted full-year 2018 financial results that show net income was USD3.7bn, some USD4.1bn lower than 2017's result. While Ford grew its revenue in North America by USD1.7bn, it fell in every other region across the globe, with large net losses posted in the Europe, Asia-Pacific and South America regions.
Pension and layoff costs also eroded the company's profit in Q4 and caused it to miss earnings estimates. In Q4, Ford slipped to a net loss of USD0.1bn, a development that will worry analysts.
In 2018 as a whole, Ford was hit by higher tariffs and commodity costs, unfavourable foreign exchange rates and recall costs related to faulty Takata airbags.
Ford recently offered a cautious assessment of the 2019 outlook because of tariff costs and uncertainty over the UK's exit from the European Union, only saying it had the potential for higher earnings and revenue over the year.
"While 2018 was a challenging year, we put in place key building blocks to build a more resilient and competitive business model that can thrive no matter the economic environment," said Bob Shanks, Ford CFO. "We are confident in our plan to transform our business." Shanks said the company balance sheet remains strong, with USD23.1bn of cash and USD34.2bn of liquidity.
Shanks said Ford expects to be able to fully fund its business needs and capital plans in 2019, while maintaining cash and liquidity levels at or above its target levels. He added Ford sees the potential for year-over-year improvement in the company's key financial metrics as it works to close the gaps versus targets.
Ford also posted a fourth-quarter net loss of USD116m, or 3 cents a share, down from a net profit of USD2.5bn, or 63 cents a share, in the same quarter in 2017, largely because of one-time pension costs and other charges.
In terms of the full-year 2018 result, Ford posted a USD398m EBIT loss in Europe, due to higher costs, adverse exchange rates and lower volume. It has already said it is planning restructuring measures for the region.
The Asia-Pacific region posted a USD1.1bn EBIT loss for the year driven by much lower sales in China. The fourth quarter slid to a USD381m EBIT loss for the region. There was also a USD678m EBIT loss in South America, where Ford was hit by volume decline – driven by Argentina – and revenue down due to weaker currencies.
Despite the US market reaching a natural peak over the past few years, Ford pulled in positive results in North America, full-year EBIT at USD7.6bn. Ford said it was helped by favourable mix and higher net pricing.
Ford also said its finance unit, Ford Credit, had strong results in the fourth quarter and its best full year earnings before taxes in eight years.
"We have consistently laid the foundation for the global redesign of our business, clearly investing to sharpen our competitiveness so we can better serve customers and invest for the future," said Jim Hackett, Ford president and CEO. "Ford enters 2019 with a clear vision, a solid plan, and we are now in execution mode."
In a presentation last week at the Deutsche Bank Global Auto Industry Conference in Detroit, Ford has cautioned on the 2019 outlook citing risks associated with the global trading environment as well as higher commodity costs. At the Detroit Motor Show, Ford announced a tie-up with Volkswagen, with which it hopes to lower costs through a collaboration in commercial vehicles and trucks that could eventually extend to electric vehicles.