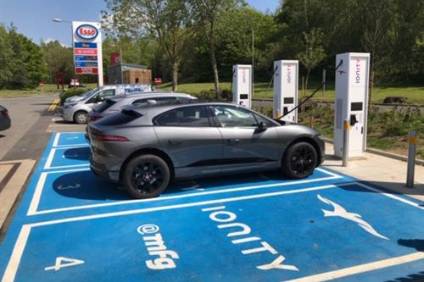 IONITY – the JV between BMW Group, Daimler AG, Ford and VW set up to create a network of high power electric battery charging stations throughout Europe – has opened its first charging station in the UK.
Ionity claims that drivers at its stations can charge their electric cars in less than 20 minutes with renewable energy, thanks to Ionity's 350kW charge network.
The first UK station equipped with four High Power chargers, each capable of charging up to 350kW and located in Maidstone (M20 Junction 8), will soon be joined by locations in Milton Keynes and Gretna Green. Ionity's Europe-wide charging network will see up to 2,400 chargers (at some 400 stations) installed by 2020.
The network has been designed to enable pan-European travel, with a focus on ultra-fast charging times and convenient motorway locations. High Power Charging is widely regarded as essential to the increased adoption of electric vehicles, making long distance journeys far more viable than the much slower 50kW alternatives. With the latest generation of electric vehicles providing much improved performance, efficiency and comfort, the new network will ease range anxiety for existing and potential EV owners. Ionity says its 350kW UK charging network is future-proofed, delivering infrastructure capable of charging times as low as 8 minutes depending on the capacity of the vehicle's battery, thus making 'e-mobility a convenient, reliable and everyday experience'.
For all of its UK stations (40 are planned), Ionity is partnering with energy technology specialists, Octopus Energy to ensure the entire network is powered by renewable sources. Octopus Energy's 'Electric Juice' will provide every charge point with 100% renewable energy, greatly reducing the environmental impact of a journey and providing peace of mind for environmentally conscious drivers, Ionity says. The Maidstone site is launched in partnership with Motor Fuel Group, the largest independent forecourt operator in the UK.
Michael Hajesch, CEO, Ionity said: "We are delighted to be launching our network in the UK with our first station in Maidstone. As car manufacturers continue to launch electric vehicles with bigger batteries to provide a longer range, High Power charging is an essential part of the e-mobility transition process thus making the e-journey a smooth and seamless experience. We are passionate about making e-mobility a reality, with drivers already taking advantage of our convenient stations across Europe. We selected Octopus Energy to provide 100% renewable energy for our network of 40 High Power Charging stations in the UK. Coupled with the new charging times that 350 kW makes possible, this represents an important step towards making the environmentally friendly long-distance journey an everyday reality."