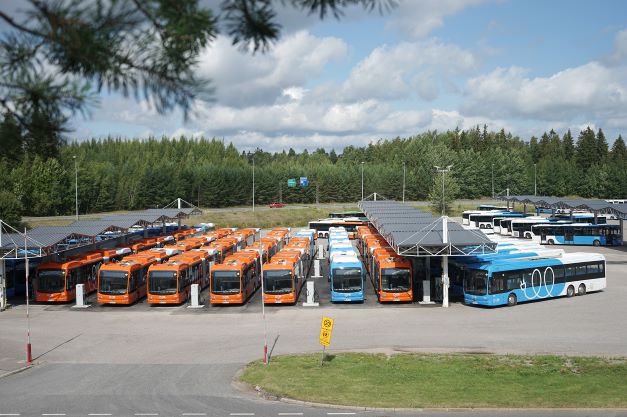 BYD has delivered an additional 76 eBuses to major Nordic public transport operator, Nobina, for use in the Finnish capital, Helsinki.
The delivery completes the country's largest bus order of 119 vehicles after 43 were delivered to Turku last June.
The fleet includes 15-metre city eBus models which made their European service debut in Turku.
The operator also bought 23 of the best-selling 12-metre model, eight of the recently updated 13-metre variant and 44 high capacity, 18-metre articulated buses.
The 18-metre articulated variant carries 112 passengers and can charge up to 300kW through a roof-mounted pantograph.
The 15-metre model has 47+3 seating capacity and a total capacity of 90 people.
Iron-phosphate batteries provide a single-charge range of 400km (250 miles) under SORT test conditions.
The 12-metre eBuses seat 72 passengers and were built in Hungary.
Each bus has a full driver cab surround and BYD's own battery thermal management system to maximise battery life and optimise driving range in the cold conditions often experienced in Finland. Climate pre-heating for the passenger compartment is fitted for use on early morning starts.
Petri Auno, managing director of Nobina Finland, said, from mid-August, Nobina would be the biggest electric bus operator in Finland with BEVs in Turku and Helsinki.