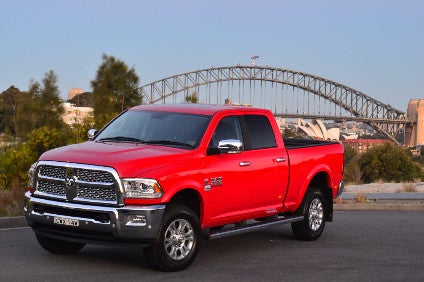 A project to import and convert to RHD Fiat Chrysler's Ram large pickup trucks for sale in Australia and New Zealand is now up and running, the company confirmed to just-auto. The deal was announced last year.
American Special Vehicles (ASV) is a venture combining the resources of Australia's largest independent automotive importer and distributor, Ateco Automotive, with the Walkinshaw Automotive Group.
Ram itself is the fastest growing truck brand in the United States. Since its launch as a stand-alone division of Fiat Chrysler Automobiles (FCA) in 2009, the brand has steadily emerged as an industry leader with US sales of more than 40,000 trucks per month.
ASV's RHD trucks are produced with full volume import approval, meaning they are fully compliant with Australian Design Rules and that ASV is the sole importer of Ram models covered by that approval.
The trucks are imported to Australia direct from the factory in left hand drive. The Walkinshaw operation then completely remanufactures the vehicles to right hand drive on a purpose-built production line in Melbourne.
The RHD versions are covered by a three year, 100,000km (60,000 miles) warranty along with full parts and service support.
The Australasian specification includes an engine developing 1,084 Nm of torque and the ability to tow nearly seven tonnes while both Ram 2500 and 3500 models are offered 'down under' through 25 dealers in Australia and a smaller network in New Zealand.
Current special offers in Australia price the 2500 from A$139,500 (US$105,300) and the 3500 from A$146,500 (US$110,550) "driveaway".
The RHD models have the 6.7 litre Cummins turbodiesel engine producing 276 kW with six-speed automatic transmission and four wheel drive.
Equipment is similar to that seen in many private LHD imports in both countries where US trucks have a small but well-heeled and enthusiast following: leather, heated and ventilated power adjusted front seats, heated, leather steering wheel with integrated controls, dual zone climate control, 20cm touchscreen display, 17cm multi-view cluster, nine speaker sound system with subwoofer, ports for mobile devices and a media hub, Bluetooth and so on.
Safety and security kit includes multi-stage front airbags, front and rear seat curtain airbags, electronic stability control, rear park assist and rear view camera, an eye level brake light with cargo camera, tyre pressure monitoring and remote keyless entry.