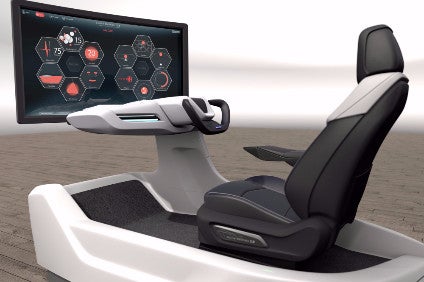 Faurecia firmly expects "20%-30%" of future vehicles will feature some element of autonomous driving as the supplier gears up to provide a raft of aids to facilitate the move, including seats able to monitor biological changes.
Despite the enticing headlines which centre on self-driving cars, Faurecia is also highlighting the myriad other questions thrown up by hands-free mobility and which it is currently addressing.
"We expect 20%-30% of the market with some level of autonomous," said Faurecia CEO, Patrick Koller at last week's Paris Motor Show. "Full autonomous will be first present on premium cars because of cost and in 2030 I think we will have only 5% fully autonomous.
"It depends on regulations and to convince customers it is safe. You will have time to do something else other than driving – what will you do? We have to propose new solutions to work, relax [or] have time to watch a video [for example]. If the seat is moving [due to autonomous mode], you can't have the seat belt at fixed points [while], if the air flow today is from the front to the rear – if you have an angle [seat moving] you can't have this type of air flow.
"Motion sickness will be a big issue for autonomous driving and we have to deal with it inside the car. We will have to make sure people are relaxed – but not too relaxed – we have to make sure they don't fall asleep.
"When you have a semi-autonomous car, the system will make sure the driver will be put back in a vigilant mode."
Part of that vigilance was in evidence at the Paris show last week through Faurecia's partnership with Hoana, which suppliers its Active Wellness 2.0 car seat, focusing on detecting and acting on human behaviour within vehicles.
Hoana is a medical device company, which produces sensors embedded in hospital beds as a way to obtain vital signs of patients.
Faurecia is evaluating a vast array of start-ups and partnerships, ploughing EUR50m (US$56m) into around 1,000 such companies and Hoana was on hand in the French capital showcasing its technology.
Through sensors, Active Wellness 2.0 collects and analyses biological data and remembers the driver's behaviour and preferences, allowing it to predict how the person at the wheel will be most comfortable based on his physical condition, time of day, travelling conditions and whether in semi-autonomous or autonomous mode.
The seat system then applies countermeasures to detect motion sickness, stress, discomfort, drowsiness and readiness to operate controls. Data gathered on the driver's condition is translated into a variety of actions and therapies, which include adjusting the seat position; five-programme massage capability; seat ventilation and heating; and changes in ambient lighting or the audio environment.
"We review around 1,000 start-ups per year," added Koller. "We have decided to invest EUR50m initially in these start-ups to develop them in our common interest. We also have a significant partnership network – 50 partnerships in laboratories and industrials.
"Hoana is our partner with the Wellbeing Seat, which is advanced sensor technology and they are working on algorithms to allow us to have this biological flow.
"If you make sure data is owned by the occupants, there is no reason not to import data related to the Wellbeing Seat in [your] smartphone."