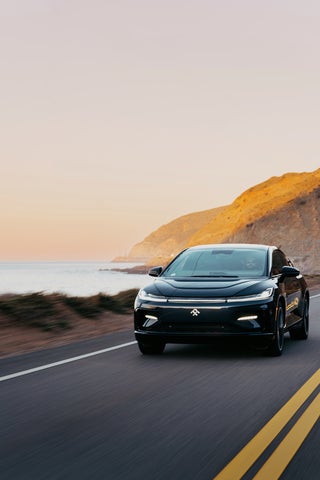 Electric vehicle start-up Faraday Future Intelligent Electric, Inc. has announced it is targeting a start of production (SOP) date for its flagship FF 91 Futurist model of March 30, 2023 – assuming 'timely receipt of funds from the company's investors'.
The Los Angeles-based company has postponed production starts previously due to funding shortfalls. Founded in 2014, Faraday Future once promised to start making and selling its first model as early as 2018.
The company says it expects the first vehicles built at its 'FF ieFactory California' to be coming off the assembly line in early April, with deliveries to its first users before the end of April.
"This SOP will undoubtedly be our most important historic moment since FF was established. We would like to express our sincerest appreciation and respect to all of those who have stood beside us for their unwavering support," said Chen Xuefeng (XF), Global CEO of FF. "The company now has all of the funding commitments, assuming timely receipt, and all of the equipment needed to build the FF 91 Futurist in place, while working with numerous world-class equipment suppliers to keep FF on track to deliver the vehicle in April of this year."
At the same time, Faraday Future plans to hold the "2023 Faraday Future Global Supplier Summit" the last week of April, inviting its 'global [supplier] partners to witness the historical milestone of the FF 91 Futurist production and delivery readiness along with sharing in the common goal and successes of the company'.
The company said it will announce new shared business initiatives including the "FF Industrial Chain Strategic Alliance" and the "FF Supplier Par" at the Supplier Summit, sharing the achievements and benefits of FF's intelligent electric mobility through industrial chain capital cooperation.
With the introduction and implementation of the "FF Supplier Par" program, FF says it will unite more closely with global supplier partners to 'co-create the performance plus luxury leadership in the era of intelligent electric mobility, plus create capital value and the potential to share in the company's joint success'.