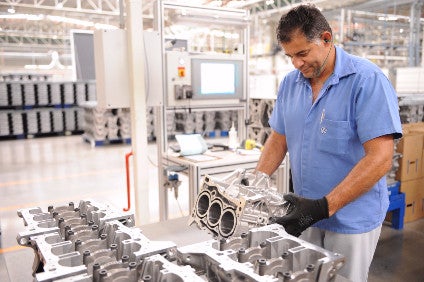 The only positive result for the Brazilian auto industry in 2015 was vehicle export volume jumping 25% to 416,955 units, heavy vehicles included, but not counting CKD assembly kits.
For 2016, manufacturers' association Anfavea predicts an 8% rise, due largely to an expected rise in Argentina.
However, 2015 exports actually fell 9% in value to US$10.6bn due to a reduction in trucks and agricultural machinery average FOB price and devaluation of the Brazilian real.
Components should enjoy a sound 2016, though. Brazil's largest vehicle exporter Volkswagen will ship 90,000 EA211, three-cylinder, one-litre, engine blocks, including the beefed-up turbo TSI version, to the mother ship's Chemnitz manufacturing plant in Germany by the end of the year.
Cast in aluminium and featuring one cylinder less than usual, this block is 27% lighter than a four-cylinder one-litre unit. It powers Polo and Up models in Europe
Renault has started exporting 1.2-litre cylinder heads from the same family as the one-litre sold in Brazil. It is one of the biggest auto parts export deals for the São José dos Pinhais, Paraná state plant. Cylinder head production will double to 4,000 units weekly. A third shift in the machining shop will remain as a consequence.
D4F 1.2-litre engines power Dacia Logan and Sandero models, together with the European Renault Clio. These engines are made by Française de Mécanique in Douvrin under a cooperation deal between Renault and PSA Peugeot Citroën. The company currently produces engine blocks, crankshafts, cylinder heads and other parts for the two automakers.