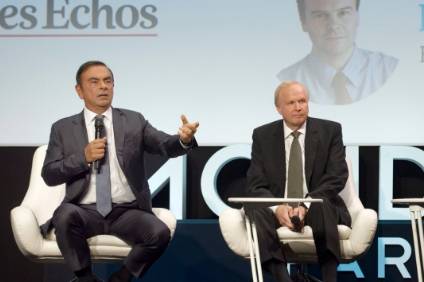 Speaking at the Paris Motor Show, Bob Dudley, BP 's chief executive, said electric vehicles offer some exciting opportunities, but that they are not enough to 'decarbonise' the transport sector on their own.
"We've got a lot of people across the company who are excited about and working on the possibilities that EVS present," Dudley said. "We see electrification as an opportunity, not as a threat."
However, Dudley said the industry should avoid only focusing on EVs. He pointed out that BP's Energy Outlook suggests that, in 20 years' time, the vast majority of cars could still have conventional engines.
This should not be a race to a single-mobility solution, he said. In order to provide society with transport that is safer, more convenient, more affordable and emits fewer emissions, he said a range of mobility solutions will play a role. That includes more efficient engines, advanced fuels and lubricants, and support for sustainable and low carbon biofuels.
He made his remarks alongside Carlos Ghosn, chairman and CEO of the Renault Nissan Mitsubishi Alliance, with whom BP and Castrol have developed a partnership, not least, working closely with the Renault Sport Formula One team.
"Renault makes great cars and BP makes great fuels, so there is a natural fit for our organizations," Dudley said. With an established name in fuels and lubricants, as well as a growing retail network, BP already serves thousands of customers a day. As consumer preferences change, BP intends to build on its experience, and work with partners, to offer the products and services people want.
"We plan to be the first choice fuel provider for decades to come – regardless of the motor or engine inside the cars our customers are driving," Dudley told delegates at the Paris Motor Show.
The mobility revolution has already provided attractive opportunities and BP says it has recently announced a string of investments in electric vehicles. These include:
a US$20 million investment in ultra-fast-charging battery start-up company StoreDot , which is developing technology that could eventually see EV charging times fall to five minutes;
a US$5 million investment in Freewire , which develops smart battery systems for fast charging of EVs; and
buying ChargeMaster , the UK's largest public network of EV charging points.
With such innovations, Dudley was enthusiastic about the prospects for BP. "Every day seems to go faster than the one before and our industry is right at the centre of this new industrial revolution," Dudley said. "I can't think of a more exciting time ever than right now to be in BP."
See also: EV share of world car parc forecast at 15% by 2040