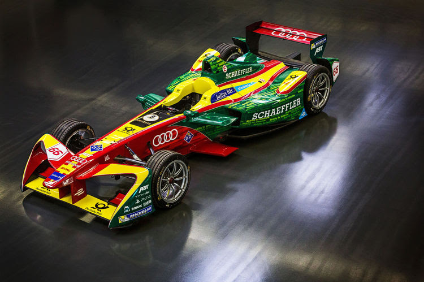 Every fourth Audi on the road should be electric within 10 years, according to the Volkswagen Group premium brand's technical development chief.
To this end, Audi is intensifying its future commitment to the world's first racing series for fully electric race cars.
Starting in the 2016/2017 season that opens in Hong Kong on 9 October, Audi will increase its involvement in Formula E Team ABT Schaeffler Audi Sport. In addition, it is planned to incorporate Formula E into a factory-backed motorsport programme as of the 2017/2018 season.
Stefan Knirsch, management board member for technical development said: "Electric mobility is one of the key topics in our industry. We intend to evolve into one of the leading premium car manufacturers in this field. By 2025, every fourth Audi should be an electric vehicle. The first model for this is planned to be an SUV we're going to present in 2018. In the light of these plans, adapting our motorsport programme and taking up a commitment in a fully electric racing series is only a logical move."
Head of Audi Motorsport Wolfgang Ullrich added: "Audi has consistently been using motorsport to test and develop new technologies further for subsequent use in production. With quattro drive we revolutionised rally racing and subsequently set standards in circuit racing as well. In the 24 Hours of Le Mans, Audi was the first manufacturer to have achieved victories with a TFSI engine, a TDI and a hybrid race car, so writing motorsport history on several occasions.
"Now we intend to repeat this in fully electric racing. Formula E with its races being held in the hearts of major cities is an ideal stage for this purpose and Team ABT Schaeffler Audi Sport a logical partner for us."
Audi Sport has been giving its name to the team ever since the inaugural 2014/2015 Formula E season and in the Brazilian Lucas di Grassi making one of its factory drivers available in the course of this cooperation. In addition, the team has been able to use Audi Sport's infrastructure in Neuburg. Starting in the 2016/2017 season, Audi is going to intensify the existing partnership with Team ABT Schaeffler Audi Sport by financial and technical support. For the 2017/2018 season, on the road toward a fully fledged factory commitment, Audi Sport will be joining the development step by step in close cooperation with technology partner Schaeffler.
The 2016/2017 Formula E season calendar currently features 12 races in 10 international metropolises. On 10 June, 2017, the electric racing series will visit Berlin. The two final races will be held in New York on 29-30 July, 2017.