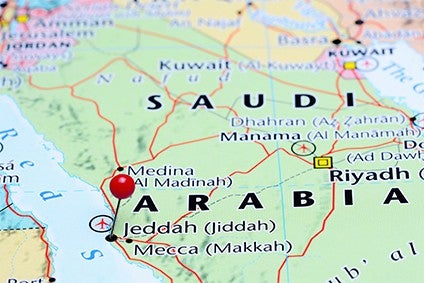 EV Metals Group has outlined plans for a battery chemicals complex in Yanbu Industrial City following a conditional investment agreement signed between the Royal Commission for Jubail and Yanbu (RCJY) and EV Metals Arabia for Industry (EVM Arabia).
EVM plans to develop and expand the chemicals complex in stages comprising lithium chemicals, nickel chemicals and cathode active materials plants producing for domestic and international markets.
The battery chemicals complex will produce high purity chemicals containing lithium, nickel, cobalt, manganese and other metals for high energy density cathode active materials required in rechargeable lithium ion batteries for electric vehicles and renewable energy storage.
"Abdullah Busfar, chairman of EVM, said: "The development and expansion of the battery chemicals complex will be a global first for the kingdom of Saudi Arabia, creating a unique integrated processing facility.
"This will position the kingdom as a strategic global hub for midstream and downstream processing of critical raw materials to produce high purity chemicals for high energy density cathode active materials for domestic and export sales to original equipment manufacturers and battery cell manufacturers in growth markets in Europe and North America seeking independent supply chains.
"We have also advanced the development of the Saudi supply chain with applications for exploration licences over areas with identified critical raw materials containing lithium, nickel, cobalt, copper, platinum group metals and rare earth elements.
"The battery chemicals complex is a strategic project enabler for the industrial clusters of Vision 2030 which provides development of manufacturing plants for production of battery cells and electric vehicles in the kingdom."
Amec Foster Wheeler Australia commenced front end engineering and design (FEED) for the first two trains of LHM in July. FEED is scheduled for completion in Q4 2022 to enable construction to commence in Q1 2023, creating employment for 750 personnel during construction and initially 450 permanent positions in operations.
Commissioning and ramp up are scheduled for 2024/25. Strategic market studies for EVM by Benchmark Minerals Intelligence report growing structural deficits in global supply of LHM from 2025/26.
The conditional investment agreement provides for the allocation and use of 1,270,000 square meters (127 hectares) of land for the battery chemicals plant, a larger area of land than first proposed.
The initiative of the RCJY has enabled EVM to plan for the expansion of the lithium chemicals plant with the addition of a further two trains to increase production to 100,000 tpa of LHM. It has also enabled EVM to provide for three processing trains in the nickel chemicals plant each with a capacity to produce over 100,000 tpa of high purity nickel sulphate.