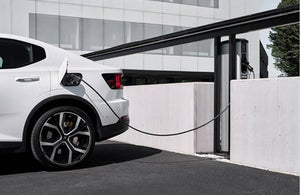 More motorists are exploring the idea of EV leasing according to UK car and van leasing company Select Car Leasing.
According to one of the UK's leading independent specialists for car and van leasing, Select Car Leasing, more motorists are looking at joining the world of EVs and are increasingly turning to adopting battery power.
The company has seen a 300% upturn in interest for EV models over the last couple of months, with the company stating that this is due to the governments' 2030 carbon emission targets and the rising cost of petrol and diesel.
Another factor making the EV market increasingly appealing is the inflated prices in the second-hand car market which is causing many people to reassess their views on future models of transport.
Shane Pither, head of automotive innovation at Select Car Leasing, said: "Leasing for all vehicle types has been growing in popularity in recent years due to a number of factors. These include offering the lowest upfront costs and also the lowest monthly payment options for driving a new vehicle."
"That means you get to drive a new car every two to three years, and therefore avoid the likelihood of expensive issues that usually occur after four years of a cars' life. What we are seeing with EVs is even more pronounced, and this is mainly due to the rapidly advancing technology."
According to the Society of Motor Manufacturers and Traders registrations of EVs increased from 8.4% of the market in May 2021 to 18.8% by November. During the same time period Select Car Leasing saw a jump from 9.4% in May to 27.7% by November.
This increase in interest can also be seen when it comes to leasing plug-in hybrids which have seen an increase from 6.3% to 9.3% from May to November 2021 with enquiries to Select Car leasing increasing from 6.4% to 11.4%.
Pither added: "What we are increasingly hearing from our customers, both new and old, is that they want to have an EV but there are still barriers in the way of this happening. Yes, they will have to organise suitable charging options, which can be tricky for those without private off-street parking, and learn how to plan longer journeys with suitable charging stops along the route."
"However, by not having to make a long-term commitment they can get behind the wheel of an EV much sooner and therefore overcome these 'hurdles'. We predict this trend will continue – so get ready to see more and more electric vehicles on the roads."