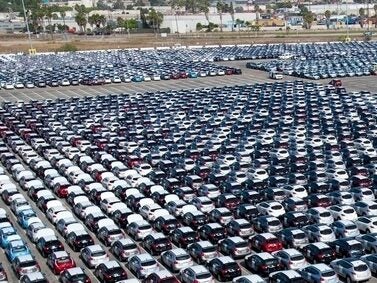 Europe's light vehicle market is heading for a recovery in 2023 to around 16.1 million units (compares with 14.8 million units in 2022) according to the latest forecasts from LMC Automotive (a GlobalData company).
However, the recovery is only partial when compared to a pre-pandemic European light vehicle market of 20.7 million units in 2019.
"The gradual easing of the supply shortages means that manufacturers will increasingly be able to fulfil backed up orders," says analyst Jonathon Poskitt. "That's going to mean inventory can recover, with delivery waiting times falling. The market therefore sees some support in the coming months," he says.
However, Poskitt also warns that the underlying picture for demand in the region is far from healthy.
"Recessionary economic forces are combining with the effects of ongoing war in Ukraine to drag the market down on where it should be," Poskitt maintains.
"The European vehicle market has been severely constrained following the pandemic. While growth is resuming in 2023, it is coming off an exceptionally low base.
"The gradual switch in emphasis from supply shortages that constrain sales to concern over weakening prospects for demand will keep this year's European light vehicle market at another low level by historical standards."
GlobalData forecasters also warn that medium- and long-term market prospects in Europe have been dented by negative structural factors such as higher vehicle prices and lower mobility requirements due to the emergence of hybrid working patterns.