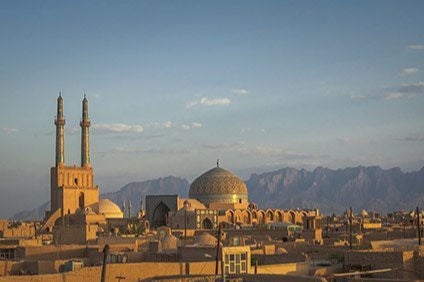 Three European Foreign Ministers have jointly condemned the reimposition of economic sanctions against Iran imposed by Washington today (5 November) and have pledged to find ways for business to continue trading with Tehran.
President Trump's decision to withdraw from the nuclear deal, signed by the United Nations as well as the P5+1 members of the Security Council; UK, France, China, US, Russia and Germany, has effectively made business with Iran extremely difficult.
The Joint Comprehensive Plan of Action (JCPoA) allowed manufacturers, particularly in the automotive sector, to move back into Iran and set up joint ventures, but Trump has long made clear his desire to tear up the deal.
France is particularly exposed with both PSA and Renault moving strongly back into Iran following the previous lifting of sanctions, but their wings, along with other major players such as Airbus and Total, have been severely clipped.
Jean-Yves Le Drian, Heiko Mas and Jeremy Hunt, the Foreign Ministers of France, Germany and the UK, issued a joint statement along with their Economic Ministers, strongly attacking the decision by the US to act against Iran.
"We strongly regret the reimposition of sanctions by the US by its withdrawal from the JCPoA," noted the joint statement.
"The JCPoA is a major part of the nuclear non-proliferation world architecture and multilateral diplomacy, unanimously approved by the UN Security Council. It is essential for the security of Europe, the region and the whole world. The International Atomic Energy Agency (AIEA) maintains in 12 consecutive reports Iran was respecting its commitments in the agreement.
"Our objective is to protect European economic actors who are engaged in legitimate commercial business with Iran. As signatories of the JCPoA, we are committed to work, to preserve and maintain operational financial circuits with Iran and to ensure the export of Iranian oil and gas."
While PSA preivously said it had started the suspension of its joint venture activities in Iran, Renault has been more ambivalent, with CEO, Carlos Ghosn insisting the manufacturer had a future in the country.
"We are not abandoning Iran, we will not abandon Iran," said Ghosn this summer. "We will have a future in Iran. It might take perhaps one year, two years, three years.
"Even if we have to strongly reduce our scale, we will not abandon Iran. So, we will remain with a very reduced scale because we are convinced in one year, two years, three years, this market will reopen."
The Foreign Ministers also made reference to a European Union initiative to create an ad hoc mutual fund vehicle, which would allow Iran to continue to benefit from sanctions lifting and to allow exports from the Continent, although it is unclear at this stage just what this might entail.
President Trump meanwhile, is robustly insisting sanctions will remain in place against Iran targetting the country's energy, shipping and shipbuilding sectors as well as aiming at the Central Bank of Iran and sanctioned Iranian banks.
"Our objective is to force the regime into a clear choice: either abandon its destructive behaviour or continue down the path towards economic disaster," said Trump.
"We call on the regime to abandon its nuclear ambitions, change its destructive behaviour, respect the rights of its people, and return in good faith to the negotiating table. We seek cooperation from our allies and partners in this effort."
As expected, Tehran has reacted strongly to the reimposition of sanctions, with Iranian President, Hassan Rouhani remaining defiant as the sanctions bite. "With [the] people's help and unity, we have to make Americans understand they cannot talk to the great Iranian nation with the language of pressure and sanctions," said Rouhani.
"What the Americans are doing today is putting pressure merely on the people. Today, we are not the only one [s] who are angry about US policies, even European companies and governments are angry about them."
The joint Foreign Ministers statement added its determination to continue its work was "unshakeable," adding: "We will continue to be committed to the application of the JCPoA, in line with respecting international agreements and our international common security.
"We expect from Iran it plays a constructive role in this respect."