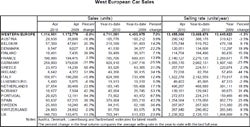 Car sales in Western Europe fell by 8.7% in May according to data released by JD Power Automotive Forecasting.
The firm said that the year-on-year contraction intensified in May, though the seasonally adjusted annualised rate of sales held up relatively well.
The seasonally adjusted annualised rate of sales (SAAR) fell only slightly, to a little under 13.4m units a year, JD Power said.
However, the firm cautioned that the relative stability cannot be expected to last, as the currently weak markets of Germany and Italy will be joined by post-incentive weakness by the UK (probably as soon as June) and Spain.
JD Power's European analysis also noted 'a remarkable rebound' in Scandinavian markets.
The German car market – Europe's largest – was down by 35.1% in May, though the comparison is against a strong month last year when the German government scrappage incentive took effect.
The French result was a little better than expectations, but the seasonally adjusted rate of sales showed some cooling from the strength in the first quarter. More easing is to be expected this year, albeit with some volatility as the scrappage incentive is reduced in a stepwise fashion.
The UK market held up well in May as the tail end of scrappage sales continued to pass through to registrations but a slowdown is imminent, JD Power said.
The Spanish market held up relatively well in May but the scrappage scheme boost is not expected to last into the second half of 2010 and a market decline will then be in prospect.
JD Power forecasts that the West European car market will decline by 5.9% to 12.84m units in 2010.