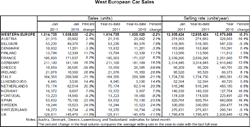 Data released by JD Power Automotive Forecasting shows that car sales in Western Europe fell by 2.2% in January.
JD Power said however that the trend of decelerating year-on-year declines seen towards the end of 2010 continued into the first month of 2011.
The German car market was up by 16.5% in January against last year.
The French market was described as 'particularly strong' in January 2011. The seasonally adjusted annualised rate of sales (SAAR) was 2.5m units/year, this coming due to a spillover of registrations related to the ending of its scrappage scheme (that expired at the end of 2010).
However, the Spanish car market fell by 23.5%; the comparison is with an inflated market in early 2010 due to government support, though the underlying weakness now shown in this market 'remains a concern'. The Italian market also showed weakness last month.
UK sales fell 11.5% reflecting the lack of scrappage scheme, a VAT increase and continued economic uncertainty, JD Power said.
JD Power forecasts that the West European car market will reach 12.7m units this year, 1.9% below last year's total (which saw some scrappage boost in the first half).