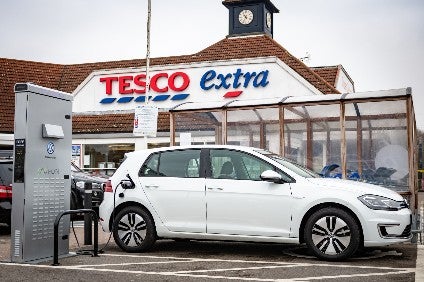 New data from the European Automobile Manufacturers' Association (Acea) highlighted the correlation between the affordability of electric cars and their market uptake. The analysis compared national data on the sales of electrically-chargeable vehicles (ECVs) with GDP per capita in the EU member states for full year 2018. The data showed all countries with an ECV market share of less than 1% – half of all EU member states – have a GDP per capita below EUR29,000.
This was the case in several southern countries – including Spain, Italy and Greece – as well as in central and eastern European markets like Lithuania, Bulgaria and Slovakia.
In Latvia, for instance, only 93 electric cars were sold last year. Poland had the lowest uptake in the EU with an ECV market share of just 0.2%.
By contrast, an ECV share of above 3.5% only occurred in countries with a GDP of more than EUR42,000, like Finland, the Netherlands and Sweden.
EU institutions recently approved the new CO2 regulation for passenger cars, setting reduction targets of 15% and 37.5% for 2025 and 2030 respectively. These targets will follow on from the target of 95g CO2/km for 2021, set in 2013.
"Sales of electric and other alternatively powered cars will have to pick up strongly if these CO2 targets are to be achieved," ACEA said in a statement.
"Unfortunately, however, in 2018 only 2% of all new passenger cars registered throughout the EU were electrically-chargeable."
"Besides investing in charging infrastructure, governments across the EU need to put in place meaningful and sustainable incentives in order to encourage more consumers to make the switch to electric," said ACEA secretary general, Erik Jonnaert.
"People throughout the EU should be able to consider purchasing an electric vehicle – no matter which country they live in – north or south, east or west. The affordability of the latest low- and zero-emission technologies needs to be addressed by governments as a matter of priority."
Although fiscal measures to stimulate electric car sales are available in nearly all EU states, the nature and monetary value of these benefits varies widely.
While most countries grant simple tax reductions or exemptions for electric cars, only 12 EU member states offer premiums or bonus payments to buyers of these vehicles.
The UK last November slashed EV subsidies. The 'plug-in car grant' which since 2011 had taken GBP4,500 off the purchase price of a brand new electric vehicle was trimmed by GBP1,000 while incentives of GBP2,500 to buy new hybrid cars was abolished completely.
This week, the UK's SMMT trade body said sales of zero emission capable plug-in hybrids (PHEVs) fell 34.4% in April and 20.4% year to date – evidence, it said, of the "consequences of prematurely removing upfront purchase incentives before the market is ready".
Mike Hawes, SMMT chief executive, said, "While it's great to see buyers respond to the growing range of pure electric cars on offer, they still only represent a tiny fraction of the market and are just one of a number of technologies that will help us on the road to zero. Industry is working hard to deliver on this shared ambition, providing ever cleaner cars to suit every need. We need policies that help get the latest, cleanest vehicles on the road more quickly and support market transition for all drivers. This includes investment in infrastructure and long term incentives to make new technologies as affordable as possible."