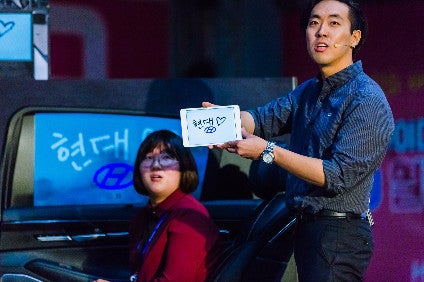 A concept called Sketchbook won the Hyundai Motor Group (Hyundai and Kia brands) 2016 IDEA festival first prize at an event at group R&D headquarters in South Korea on Thursday (6 October).
Sketchbook is a modern interpretation of drawing on foggy (condensated) glass on a rainy day. The idea is to make a car window into a drawing canvas which allows drawings or notes which can be saved in the cloud and/or sent to other devices such as tablets or smartphones.
An electrostatic touch panel recognises static electricity in a finger and displays the drawing, letters or characters on the glass. It's activated by blowing onto a barometric sensor. Various 'buttons' in the display control options such as colour palettes, different line thickness and an eraser.
Sketchbook was developed by one of seven teams of (mostly) young group development engineers with (again, mostly) a couple of years experience with the automaker in the R&D unit. They won a contest judged by a panel that included top executives and Kia design chief Peter Schreyer who recently marked 10 years with the Hyundai group affiliate.
Other concepts were:
Alpha Goo, a motorised, self-guiding ball (inspired by a Star Wars robot) envisaged as a platform for interchangeable modules such as a projector, speakers or camera and also able to push a baby stroller or aid an elderly or disable person by moving or fetching objects or even shifting some furniture items.
I. Guardian which enforces recently introduced South Korean laws that ban overtaking school buses when stopped to pick up or let children off. Features include a rear window screen that shows children at the front of the vehicle, wireless communication to warn other vehicles of the road hazard and a speed bump that rolls out instantly across the adjacent lane should a vehicle try to overtake the stopped school bus.
Moving Forest is an air purification system intended to be installed on top of a bus to trap and purify the fine dust and carbon dioxide in the air that causes the dangerous smog now often seen in some Chinese cities and, sometimes, here in Seoul. A fine dust purification system uses electric precipitator technology and a CO2 removal cartridge uses a chemical reaction between calcium hydroxide and CO2. The researchers reckoned 10,000 buses running for 24 hours in Seoul using such units would have the same effect as 1m household air cleansers ot 60 forest parks the size of Korea's Yeouido.
Lego Car divides a car's functions into several blocks (driving, steering, braking; controls and instruments, etc) and each block is easily disassembled/assembled by clamps and latches. Each block sends and receives data using a Bluetooth module so there is no wiring. The development team demonstrated reconfiguration of a single occupant car into dual occupancy by doubling the width – in about five minutes of Formula One-style pit stop teamwork. Judge Schreyer commented rigidity might be a problem and square blocks might give him [as the head of Kia styling] "a problem.
Twinkle is intended to help mitigate "dangerous" and "retaliatory" driving "by allowing drivers to visually communicate emotions with each other" via side and rear flexible LED display panels; the one at the rear also substituting for tail lamps and also allowing for constantly changing 'lamp' design. The creators also envisaged a driver using the panel message facility to request help. Potential for abuse is obvious…
Kiss on the Road uses a series of 15 special injector jets in the rear bumper to write (in water soluble paint) on the road. Imagine if you will, a mobile inkjet printer with the road as paper. The development team envisaged advertising messages, warning of an incident ahead, temporary road markings or just cooling the road in hot Korean summers (temperatures in the 40s C are not uncommon).
Hyundai-Kia began the IDEA contest seven years ago as an internally run and publicised event "to encourage a more creative atmosphere among R&D engineers". Word got out, the media got interested and it's now well publicised, with domestic and, on this occasion, international media attending a judging event hosted by a well known Korean comedian. Teams of about a half dozen engineers each are mostly all-male but two women were in the finalist teams.
The seven finalists all win awards of varying amounts of cash and travel to other group R&D centres either in Korea or abroad. The top team gets the equivalent of about US$9,000 and – this year – a trip to Brazil.