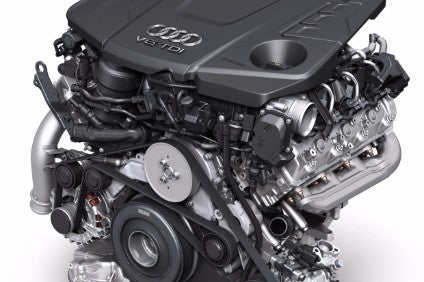 Audi Group booked a EUR1.8bn charge in 2016 to cover costs "for the resolution of the V6 3.0 TDI diesel issue" and in connection with Takata airbag recalls. Even after these special items, operating profit was EUR3.1bn and operating return on sales 5.1%.
At today's annual accounts press conference, management board chairman Rupert Stadler claimed Audi had "made great progress with clearing up the diesel issue.
"[It] was by far the biggest special item. It has had a serious impact on us – both financially and in terms of management attention.
"A task force on the diesel issue headed by Bernd Martens is working worldwide literally day and night together with colleagues from Volkswagen. This task force is driving solutions for our customers. And it is working on settlements with the authorities. We have already made very good progress on solutions for our diesel customers."
Audi has had to take two different approaches for its four- and six-cylinder TDI engines.
Stadler said it had so far recalled 2.3m cars with the TDI four and about 1m had been modified by dealers.
In the US, around 14,000 A3 models are affected. Customers can choose between a buyback or early return of a leased car, or a dealer repair – local authorities have approved modifications for 2015 model year cars.
The V6 TDI solution is more complex. In Europe, Stadler said, "there have been no objections to our three-litre V6 TDI engine. Nonetheless – like some other manufacturers – we are carrying out a voluntary service action for selected models. We have submitted a plan for the service action to Germany's Federal Motor Transport Authority for about 4,700 A6 models with the 3.0 TDI with the Euro 5 emission standard, and for about 65,000 Q5, A6 and A8 models with Euro 6.
"When this plan is approved, we will make use of the latest technical possibilities to optimise the cars' emissions with a software update."
In the US, authorities early this year agreed a process for 83,000 cars from Audi, Volkswagen and Porsche brands.
Around 25%, about 20,000 2009-2012 models, have a first generation engine and Audi has offered buy backs or will accept early returns of leased cars. A modification, as soon as approved by authorities, will also be offered instead.
Over 75% of affected cars in the US have the second generation V6 and will get a software update though authorities still have to review and approve this fix.
"After the software update, the cars will comply with the emission regulations in force at the time of registration," Stadler said.
He noted Audi had agreed a civil law settlement with court approval in San Francisco on 14 February.
"The settlement meets the demands of the Environmental Protection Agency, the state of California and the California Air Resources Board, the Department of Justice, the Federal Trade Commission (FTC) and the private plaintiffs in the court-appointed steering committee," Stadler said.
"When the period for entering an objection expires, this settlement will probably take effect on 11 May. Ideally, we will then be able to recall the three-litre models as of July," Stadler said.
"As a consequence of this diesel issue, we are carrying out far-reaching reviews. This involves improving processes, reallocating responsibilities and adjusting our organisation. We are establishing a new and expanded compliance structure with new reporting and control systems. We have strengthened the position of chief compliance officer [who is now] also responsible for risk management and a central project management office, especially for attending to the requirements of the US Department of Justice. In addition, an external monitor will support the VW group and thus also the Audi brand with this task for a period of three years."
In the technical development division Audi had separated product development, homologation and type approval and is setting up a new department for conformity of type-approval procedure in markets. New management board level development head Peter Mertens, soon to join Audi, will oversee this.
"The process of clearing up is not yet completed. We will continue until the job is done – with the tenacity that our company is well known for," Stadler said.